The Girlguiding 50p was issued in 2010 to commemorate the 100th Anniversary of the Girl Guides. There were around 7,410,090 of the coins minted, but how much are they worth today?
We've researched on eBay, and you can currently pick up one of these coins for around £1.02 in circulated condition or £2.06 in uncirculated condition.
So, not one of the most valuable 50p coins out there, but still a great affordable way to get into coin collecting. If you want to check out some of the rarest 50p coins out there, check out our list. 50p coins are also one of the most collectable when compared to other coins such as the 1p or 2p for example, and as such, it is definitely checking to see if you have one of these in your change!
Read more about the Girlguiding 50 pence below.
Design of the Girlguiding 50p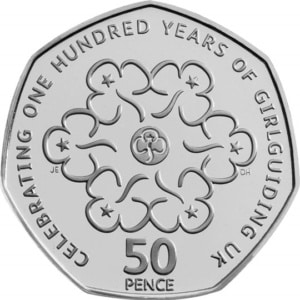 The Girlguiding 50p features a reverse design inspired by the official Girl Guide logo created by Jonothan Evans and Donna Hainan, with the inscription 'CELEBRATING ONE HUNDRED YEARS OF GIRLGUIDING UK' around the edge. The obverse design features a portrait of Queen Elizabeth II by Ian Rank-Broadley, and the coin is minted in cupro-nickel; more specifically 75% copper and 25% nickel. Generally speaking, the symmetry of the central design is very aesthetically pleasing and quite unique amongst 50p coins.
History of the Girl Guides
The Girl Guides was formed in 1910 in the United Kingdom by Agnes Baden-Powell, the sister of Robert Baden-Powell. Robert had previously served as a soldier in the Second Anglo-Boer War and had decided to form the Boy Scouts following his experience of seeing how useful young boys were during the war for smaller tasks such as carrying messages. On his return to Britain, Robert formed camping trips for boys and ultimately wrote a book called 'Scouting for Boys', which inspired others to take part in scouting.
It was not until after a Boy Scout rally in 1909 in London that Robert noticed hundreds of young girls joining in the march. Prior to this, some girls had begun to take part in scouting activities, going against the general expectation of women at that time. Robert decided to form a Girl Guide section following the publicity that followed from the march and asked his sister Agnes to oversee it.
Since that time the Girl Guides has expanded all over the world, including countries such as America, Poland and France.
Girl Guide Error Coin
There have been reports of an 'error Girlguiding 50p coin', where the supposed error is a different shaped star located within the trefoil logos in the central design.
The problem with any error coins is that they are extremely hard to verify. Anybody is free to list items on eBay, and coins especially can cause quite the stir in the general media. News outlets are very quick to jump to publish articles about coins that are merely listed for high values but not actually sold. Furthermore, as we have seen in our Battle of Hastings 50p article, it becomes extremely hard to verify if any amount of money has changed hands even if a product can be displayed as sold on eBay.
So, what's the lesson to learn here? If you want to purchase any coin, always conduct your due diligence. Look into the market and take your time before you make any decision, or you could find yourself easily getting ripped off. eBay can be a great tool to find coins to add to your collection, just be wary when looking for particularly valuable coins.
Browse the Royal Mint's Shop Today
Interested in buying a coin? Browse the Royal Mint's inventory today.
Shop now