What is a Crown?
To briefly summarise a Crown is a British coin minted between 1707 and 1965 with a value of 25 pence today. Originally used primarily as a form of currency, it eventually became more well known for commemorating events and as such became more collectable. You can read more about the Crown's history in our Winston Churchill Crown article.
What is the 1981 Charles and Diana Crown?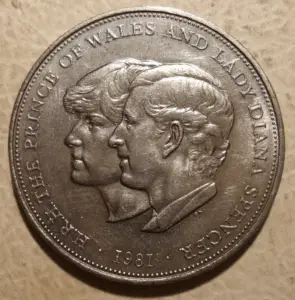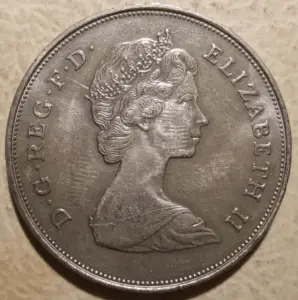 In 
1981 H.R.H 
Prince Charles, the eldest son of Queen Elizabeth II, married 
Lady 
Diana Frances Spencer making her the Princess of Wales. Th
e couple went on to have 2 children, prince William and Harry, before separating in 1992 and eventually divorcing in 1996. Princess Diana was a very popular figure and was well received by the media for her charitable work.
The marriage took place in St Paul's Cathedral and was watched by an estimated 750 million people worldwide on television. It is no surprise, therefore, that the Royal Mint decided to produce a Crown to celebrate the event. 27,360,000 of these Crowns were issued, alongside 218,00 silver-proof versions. The non-proof versions were made of cupronickel and weighed approximately 28.28 grams. 
Is the 1981 Charles and Diana Crown rare
 and how much is it worth
?
As you can see, the 1981 Charles and Diana Crown has a mintage of 27,360,000, which is quite a large amount. As such, the value of the standard version is not worth a huge amount. We found the average selling price of these coins to be around £1.85 on eBay, considering only successful sales.  
The silver proof version, however, is worth substantially more. The silver content of the coin alone would mean it is worth upwards of £10 depending on the price of silver at the time of the sale. Alongside the history of the coin, it is clear to see why these proof versions of the coin sell can sell for around £50 with case and certificate.
It is clear to see that the silver-proof version of the coin is what you should be looking out for. The standard version of the Crown is not very valuable but is still a classic coin to add to your own collection.
10
th
 Anniversary Charles and Diana Gold Coin
The ten-year anniversary of the wedding took place in 1991 and was commemorated by a gold proof £5 coin (Quintuple Sovereign). Comprising of 22 carat gold, this coin was issued for the Falkland Islands.  
With a mintage of 200, these coins are very rare. Should you happen to own one of these coins, you would be able to sell it for around £5,000 with box and certificate.  
Browse the Royal Mint's Shop Today
Interested in buying a coin? Browse the Royal Mint's inventory today.
Shop now