First introduced in 1969, the 50p is an iconic coin in British Culture. The 50p has a value of 0.50-pound sterling and is legal tender up to £10. Initially, the 50p coin weighed 13.5 grams and had a diameter of 30.0 millimetres, until 1997 where these were changed to 8.0 grams and 27.3 millimetres respectively. It is difficult to know exactly how many 50p coins remain in circulation, but the figure is estimated to have surpassed 1000 million. 
It is worth mentioning that this article will be ignoring the 50p coins that were produced before 1997, as these coins have been withdrawn from circulation. This means that iconic coins such as the 1992 Single Market 50p will not be included in this list.
What about the Olympic 50p coins?
You may notice that our list also discards the Olympic 50p coins, whose mintage figures range from 1,125,500 for the Football edition to 3,345,500 for the Archery edition. We have taken this decision as the majority of these coins were simply collected at the time – the Royal Mint estimates the figure to be around 75%.
With 29 different designs introduced in this series, the release of the Olympic 50p coins was an iconic moment for coin collectors worldwide.
Let's move on to the list.
1. Kew Gardens 50p
With a mintage of 210,00, the Kew Gardens 50p coin is not just the rarest 50p coin in circulation, but the rarest of any denomination.
The Kew Gardens 50p was released in 2009 to commemorate the 250th Anniversary of the Royal Botanic Gardens in Kew, London. The iconic design features a Chinese Pagoda encircled by vines, instantly recognisable amongst the coin collecting community. The Kew Gardens are known worldwide due to the large collection of herbs and plants that are found there.
With a mintage figure just 15% the amount of the second and third rarest 50ps currently in circulation, it would be incredibly lucky to find this coin in your change. If you did, you can expect this coin to sell for well over £100 on the secondary marketplace. Check out our Kew Gardens 50p coin profile to find out more about this coin.
2/3. 2018 Peter Rabbit 50p and Flopsy Bunny 50p
Tied for second place are the Peter Rabbit and Flopsy bunny 50p coins; both minted in 2018  with a mintage of 1,400,000.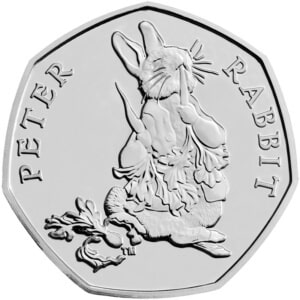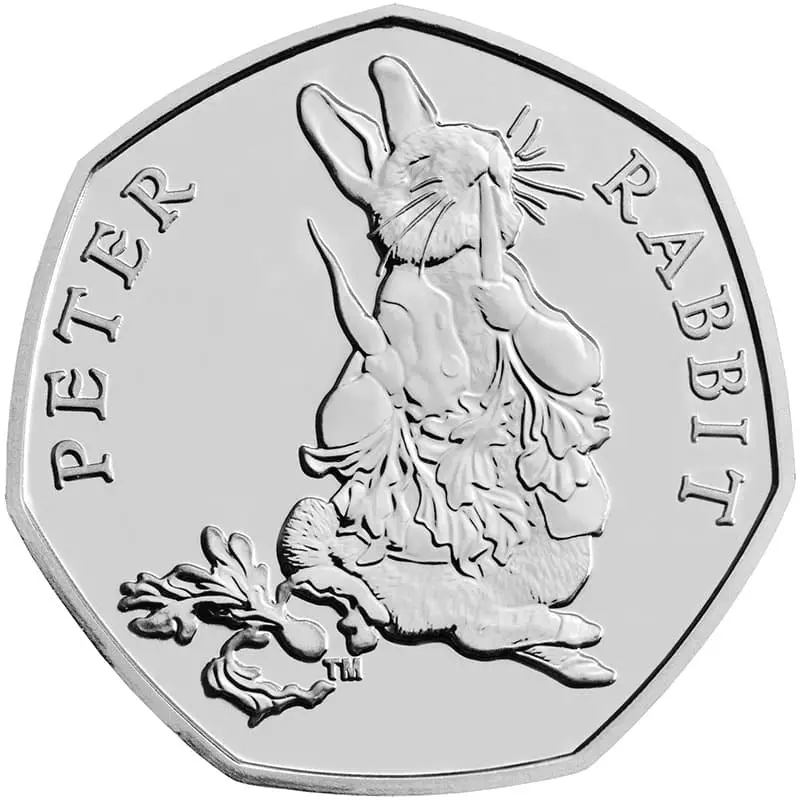 The 2018 Peter Rabbit 50p coin is not to be mistaken with the version of the coin that was minted in 2016. The 2018 Peter Rabbit 50p coin is much rarer, with a mintage figure of 1,400,000 compared to 9,700,000 for the 2016 version of the coin. In terms of design, the 2018 Peter Rabbit coin shows Peter feeding on radishes; compared to the 2016 design which depicts a larger portrait of Peter. Both of these designs were created by Emma Noble. You can expect this coin to sell for well above face value; check out our coin profile for more information.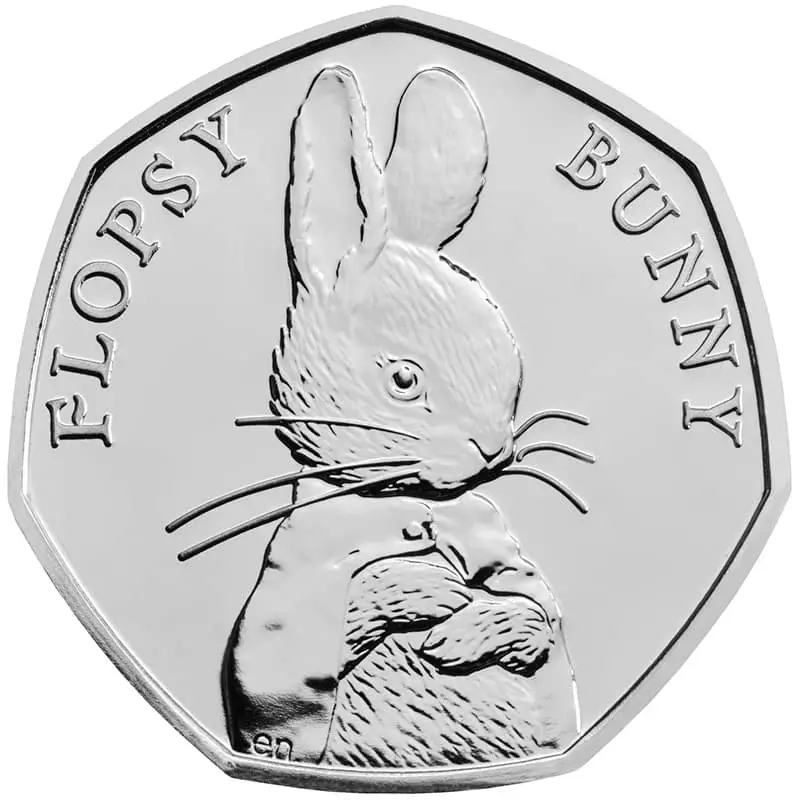 Also minted in 2018, the Flopsy Bunny 50p has the same mintage as the 2018 Peter Rabbit coin with 1,400,000 coins entering circulation. The design, also by Emma Noble, depicts a large portrait of Flopsy Bunny as the centrepiece. You can also expect this coin to sell for above face value, please see our coin profile for more information regarding this coin.
Can I find these coins in my change, or are they all collected?
The likelihood of finding a Peter Rabbit or Flopsy Bunny 50p in your change, although small, is real. In total there are 2,800,000 of these coins that were released. This means, even with their high collectability due to being part of the Beatrix Potter collection, it is still very possible that not all of these coins will have been collected yet. It is always worth giving your change a second look, who knows what you will find…
4. Mrs Tittlemouse 50p
In fourth place, the Mrs Tittlemouse 50p stands tall with a mintage of 1,700,000.
Another coin of the Beatrix Potter collection, the Mrs Tittlemouse 50p coin was minted in 2018 with a total of 1,700,000 coin put into circulation. The design features a large portrait of Mrs Tittlemouse holding a bag, and was created by Emma Noble. In a good condition, this coin can sell for above face value on the secondary market. The Mrs Tittlemouse 50p coin was the last of the four Beatrix Potter coins that were released in 2018. You can find out more specifics about this coin here.
5. Isaac Newton 50p
Last but certainly not least, the Isaac Newton 50p coin with a mintage of 1,801,500 released in 2017.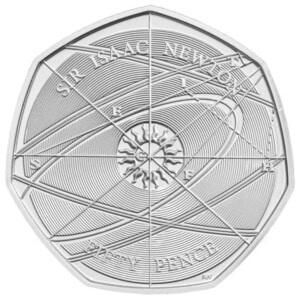 The Isaac Newton 50p coin was released to mark the 375th anniversary of his birth and features a design by Aaron West based on the work in Newton's book Principia Mathematica. Not only is Newton widely regarded as one of the greatest Mathematicians of all time, but he was also influential in the coin world due to his role of Master of the Mint which he took on Christmas Day in 1699 and remained in until his death in 1727. Although unlikely to sell for above face value in circulating condition, the design and representation of this coin make it a worthwhile collectable. You can find out more about this coin in our coin profile.
Final Thoughts
With so many different 50p designs out there, and many new ones being released year on year, it can be difficult to keep up with it all! We hope this list has cleared things up for you a little bit and provided some clarity into the rarest 50p coins out there. If you have any queries as to how this list was created, please see our disclaimer below.
Browse the Royal Mint's Shop Today
Interested in buying a coin? Browse the Royal Mint's inventory today.
Shop now
Disclaimer
Please note that we have ranked these coins purely on the mintage figures. It is incredibly difficult to accurately measure how many coins are no longer in circulation (due to a variety of factors) and as such we have chosen to base this list on the figures given by the Royal Mint. Please visit here to see the official mintage figures.