If you have come across an old coin collection there is a good chance that one of the coins is a farthing, specifically a 1951 farthing.
In this article, we'll get into the details of the 1951 farthing specifically to determine how rare it really is, what versions of the coin were made and how much they are worth today.
Let's get into it.
How Much Is The 1951 Farthing Worth Today?
The standard bronze 1951 farthing is not considered to be very valuable and sells for between £0.50 and £1.00 depending on the condition of the coin. When you consider that the farthing was worth 1/4 when it was in circulation, it shows how little the value has increased since then.
This low value is due to the mintage amount, which we will discuss shortly.
There are however certain rare versions of the 1951 farthing that are worth hundreds of pounds, and we have also located completed auction listings for error versions of these rare versions for thousands of pounds.
How Many 1951 Farthings Were Made?
There were around 11 million farthings minted in 1951 in bronze and bronze proof specifications. These are worth between £0.50 and £1, however, highly graded versions have been known to sell for around £20.
There was also an issue of the 1951 farthing in cupro-nickel rather than bronze, and we, unfortunately, could not find any information regarding the mintage for this version. The cupro-nickel version sells for hundreds of pounds with a good grading, and there have been examples at auction that contain errors listed for thousands of pounds in some cases.
Did The 1951 Farthing Enter Circulation?
The 1951 farthing did enter circulation and was not produced as a collectable coin.
This is why most of the examples that you will come across on sites such as eBay are in uncirculated condition.
Despite this, there are still several examples in good condition given the fact that the farthing was demonetized in 1960 and was used less frequently during the later years of its circulation.
Design Of The Coin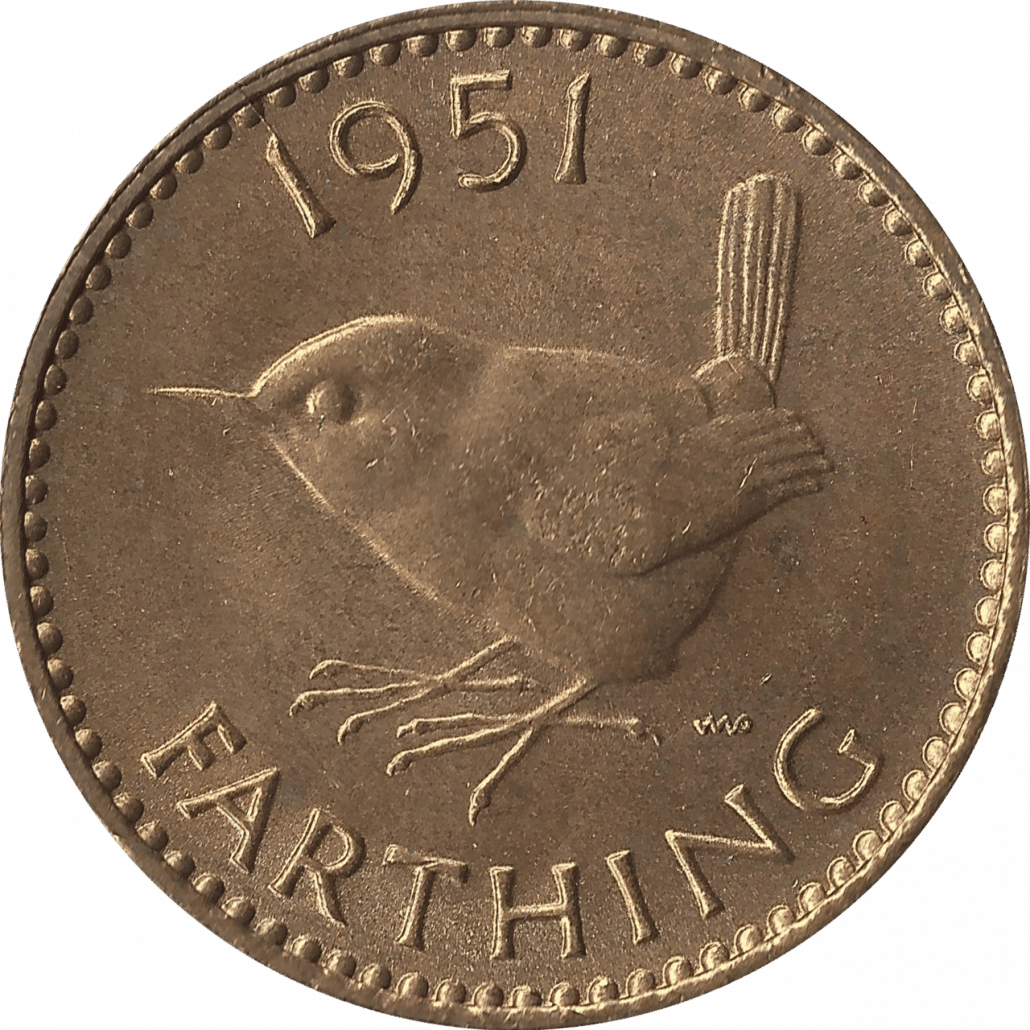 The reverse design of the 1951 farthing is iconic and features a wren facing left with the inscription '1951' above and 'FARTHING' below.
Towards the bottom right of the wren the initials of sculptor Harold Parker can be seen, who had submitted the Wren design alongside others for the proposed reverse designs for Edward VIII in 1936.
The obverse of the coin features the bare heard portrait of King George VI with the inscription 'GEORGIVS VI D:G:BR:OMN:REX FIDEI DEF'.
Specifications
| | |
| --- | --- |
| Weight (g) | around 2.8 |
| Diameter (mm) | 20.0 |
| Material | Bronze |
Knowing the weight and diameter of a farthing is a good starting point in checking for fake versions of the coin.
Significance Of 1951 For Collectors
If you're interested in historic coins, you may know that 1951 was the year of the Festival of Britain which was commemorated by a very special crown coin. This is also the reason why the 1951 farthing is sometimes referred to as the Festival of Britain farthing.
There are versions of this crown coin that were minted in matt proof condition and with very few examples known this version is worth thousands of pounds.
It's absolutely fascinating going down the rabbit hole of different years in history to see what coins were made and how rare they are!
Were Any Farthings Produced In 1952?
Given that King George VI passed away early in 1952, it is often thought that no farthings would be produced with this date.
However, the farthing alongside other coins like the shilling continued to be produced in 1952 and into 1953 onwards when the obverse design changed to the young head portrait of Her Majesty The Queen.
This means that the 1951 farthing does not hold the title for the last farthing of King George Vi's reign (unfortunately).
Final Thoughts
Although the 1951 farthing might not be the rarest coin, there are still some versions of it that are worth considerably more – although details about the mintage are very difficult to locate.
If you suspect that you might have a rarer version then be sure to get in touch with your local dealership to have it appraised.