The Athletics 50p Olympic coin is unique in that 2 versions were made, and its second version is worth about £1.75 according to values on eBay in 2022.
Before the Royal Mint launched its competition to find designers to represent the 29 sports that were featured on the 2012 London Olympics coins, a separate contest was announced in 2009. This contest was sponsored by a children's television program known as Blue Peter.
The winner was a 9-year-old girl. She became the first child ever to design a coin for the Royal Mint.
Her first coin was designed and minted in 2009 (known as the Blue Peter 50p) but was not put into circulation until it was minted in 2011 along with the entire Olympic and Paralympic 29-coin series.
Mintage of the Olympic Athletics 50p Coin
The Athletics 50 pence Olympic coin is considered to be unique because a child designed it. It is also unique because there were two separate versions.
One version was released in a special London 2012 Olympic Games Blue Peter 50p – Winner's Edition presentation packs marked 2009. The other was released into circulation in 2011 along with the entire 29 Olympic Fifty Pence coin series.
The original 2009 version was not released into circulation and is considered to be rare and valuable. Only about 20,000 were created, 19,751 total mintage with a limit of 100,000. The 2009 version was not released into general circulation but was only available in a special Blue Peter presentation pack.
When considering the 2011 mintage alone, it is the 28th rarest of the 29 Olympic coins, beating only the Archery 50p in terms of rarity with 2,224,000 total coins produced.
In 2011, the coin was issued for circulation along with the 29 Olympic 50p coins. The 2011 version was also issued as a Specimen in Card as Card 3/29. One very rare 0.917 gold proof FDC coin was presented to Florence Jackson as the artist. The Athletics Olympic 50 Pence coin was minted additionally in 2011 Silver Brilliant Uncirculated in 0.925 Silver limited to a mintage of 30,000
Additionally, the 2011 coin was also issued in sets that included all 29 Olympic 50p coins as follows:
London 2012 Sports Collection Collector Album, mintage unknown.
London 2012 Silver 50p Sports Collection set was issued with 0.925 silver coins with an unknown mintage.
There was also a Specimen in card varieties as follows:
Specimen in card signed by former decathlete Daley Thompson with a mintage limit of 500
Specimen in card signed by retired English middle-distance athlete Dame Kelly Holmes with a mintage limit of 500
Specimen in card signed by former track and field athlete middle-distance runner Lord Sebastian Coe with a mintage limit of 500
Design of the Athletics 50p Coin
The Olympics Athletics 50p coin was designed by a 9-year-old girl.
All the 29 Olympic 50p special commemorative 2011 coins show the 2012 Olympic logo at the centre top of the reverse side, and the words 50 PENCE are centred and slightly curved upward at the bottom underneath the image.
The reverse side design pictures an athlete jumping over a high jump bar which is part of the track and field event.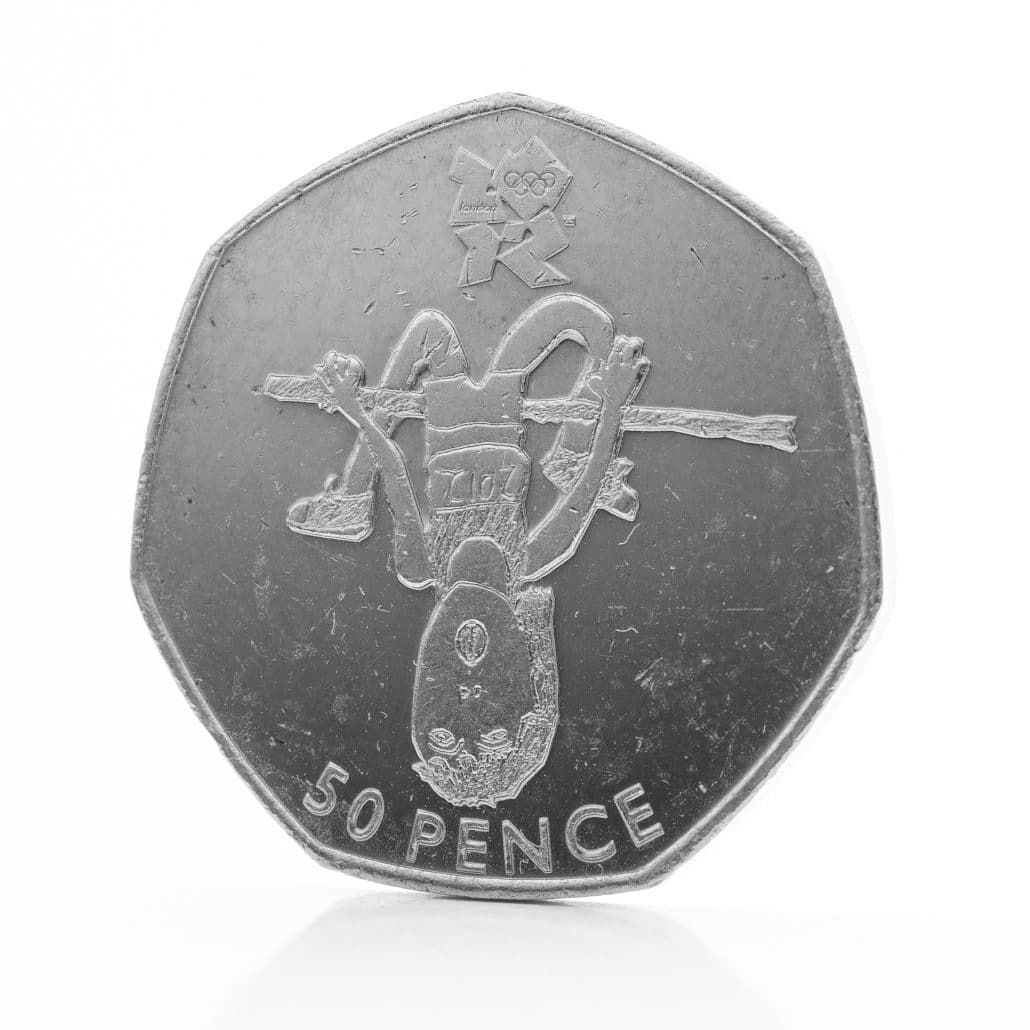 All 29 of the special commemorative Olympic coins were issued to celebrate the 2012 London Olympics. Like other 50 pence coins, the special commemorative coins are a heptagon shape and consist of a Cupro-nickel alloy. They weigh 8.00g with a 27.3mm diameter and a thickness of 1.78mm.
The Obverse design on the 2011 coin is an image of Queen Elizabeth II as designed by Ian Rank-Broadley. The words ELIZABETH II * D * G * REG * F * D * 2011 surround her image along the outer rim.
The Obverse design on the original 2009 design is the same image with a different date, marked 2009.
The edge of the coin is plain with no inscription.
About the Designer
A few years before the Royal Mint held a competition to select 29 individual designers to represent each sport, a children's program called Blue Peter had a contest of its own which allowed kids to enter. The designer chosen for the Athletics Olympic 50p coin was Florence Jackson.
She was very excited to win the Blue Peter competition. She chose Athletics because she had seen the high jump on television and thought it looked fun.
Florence Jackson was 9 years old when her coin design was chosen. She is from Bristol and was the first child to design a coin for the Royal Mint. She beat over 17,000 other entries. Her design was the 17th design to appear on the UK's 50p coin.
Florence was honoured by Olympic gold medalist Denise Lewis and Blue Peter presenter Andy Akinwolere at the Royal Mint for the striking of her first coin.
Olympic Athletics
Athletics is a group of sporting events that involve running, jumping, throwing, and walking. The most common competitions are track and field, road running, cross country running, and race walking.
Athletics was one of the key events in all of Olympic history. At the London 2012 Olympics, there were 47 events. Men competed in 24 and women in 23 of the events. They took place over the course of 10 days. More than 2000 athletes from 201 nations competed.
The Track and Field events were held at the Olympic Stadium in east London. The road events began and ended on The Mall in central London.
The events included:
Track events:
100m for men and women
200m for men and women
400m for men and women
800m for men and women
1500m for men and women
5000m for men and women
10,000m for men and women
100m hurdles for women
110m hurdles for men
400m hurdles for men and women
3000m steeplechase for men and women
4 x 100m relay for men and women
4 x 400m relay for men and women
Road events:
Marathon for men and women
20 km walk for men and women
50 km walk for men
Field events:
Long jump for men and women
Triple jump for men and women
High jump for men and women
Pole vaults for men and women
Shot put for men and women
Discus throw for men and women
Javelin throw for men and women
Hammer throws for men and women
Combined events:
Heptathlon for women
Decathlon for men
The United States took the top overall medal count winning 9 gold medals, 12 silver medals, and 7 bronze medals. Jamaica came in second, and Great Britain took third place.
Britain's Mo Farah became a double Olympic champion winning a gold medal in the 5,000 and 10,000 metres track events.
Where To Buy The Athletics Olympic 50p Coin
Going online to find collectable coins to add to a collection is the fastest and easiest way to shop for and find coins. The average selling price on eBay is £1.71 for this coin, so make sure that you are paying somewhere around that price if you decide to pick one up.
If you are looking to find an original Blue Peter version, pay close attention to the details in the images and the description of the Athletics Olympic 50p coins listed on eBay.