The dictionary 50p has been in circulation for over 15 years and is always a great talking point when you stumble across one in your change, but what are they worth today?
According to the latest confirmed sold prices on eBay in 2022, you can expect to pay £1.54 for a dictionary 50p in circulated condition without postage and packaging.
In this article, we'll take a look at the factors influencing the average sale value of the Dictionary 50p, as well as how rare the coin actually is and what it represents.
Dictionary 50p Mintage
There were 17,659,000 Dictionary 50p coins introduced into circulation in 2005. During this year the Dictionary 50p was the only commemorative 50p released, alongside the Britannia 50p which was released each year from 1997 to 2008.
The Dictionary 50p as also released in other uncirculated finishes in limited amount by the Royal Mint, a practice which happens for almost every commemorative 50p coin, and the mintages for these finishes can be seen below:
Brilliant Uncirculated with Cover – Mintage Unknown
Silver Proof – 6,500
Silver Proof Piedfort – Limited issue of 3,800
Gold Proof – 1,100
Is The Dictionary 50p Rare?
Unfortunately, a mintage of over 17 million is very high for a 50p coin. In fact, there are only 2 other commemorative 50p coins with higher mintage. This means that the Dictionary 50p is not considered rare at all.
These are the Tale of Peter Rabbit 50p and Benjamin Bunny 50p coins, with mintages of 19,900,000 and 25,000,000 respectively.
In contrast, the rarest 50p in circulation is the Kew Garden's 50p which has a mintage of just 210,000 and was released into circulation in 2009.
Design Of The Dictionary 50p
The Dictionary 50p reverse design was created by Samuel Johnson and shows entries of the words 'Fifty' and 'Pence' from Johnson's Dictionary.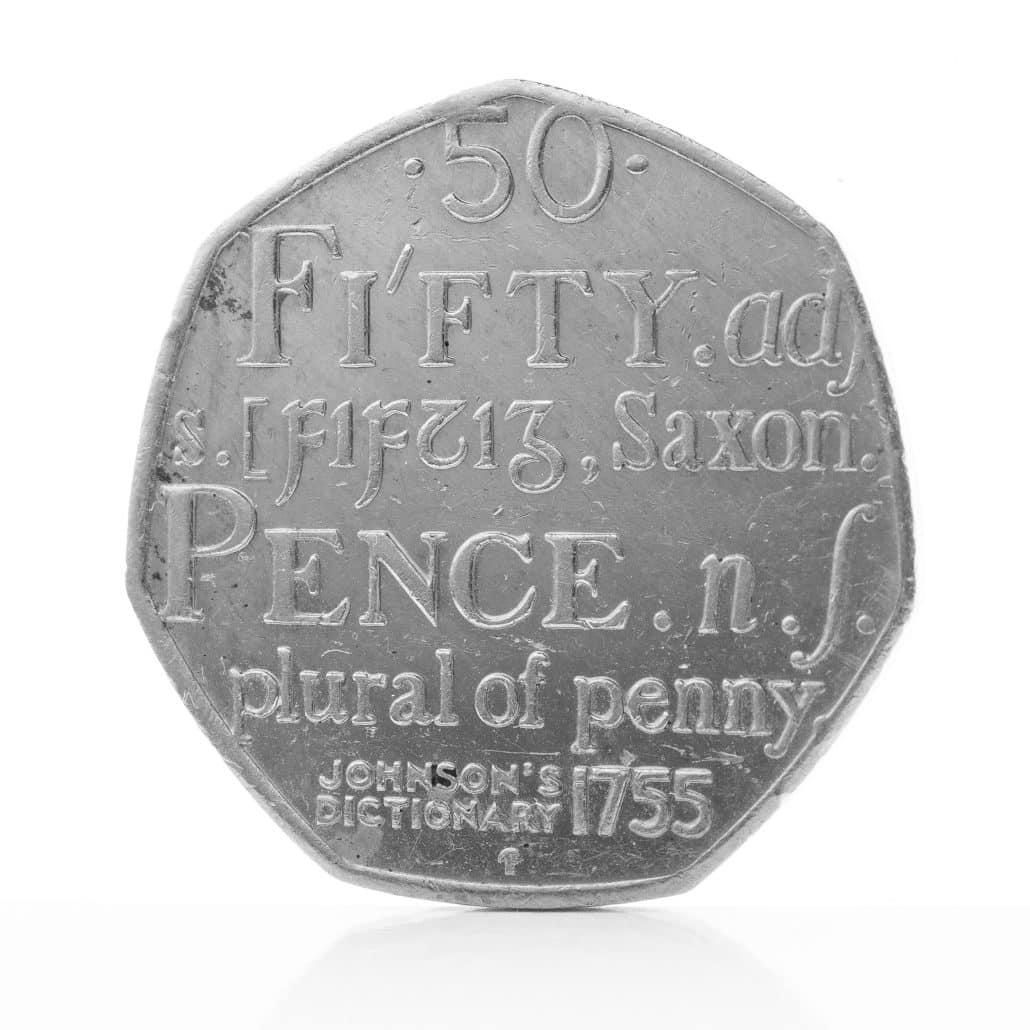 Designs like this are easy to recognise as the majority of 50 pence designs feature some kind of image. Another popular 50p coin with a text-based design is the Benjamin Britten 50p, but even that coin has a background design with lines.
The obverse design features the portrait of Her Majesty the Queen by Ian Rank-Broadley FRBS which was used between 1998-2015 before being replaced by the new portrait by Jody Clark which is used to this day.
What Does The Coin Represent?
The Dictionary 50p, otherwise known as the Johnson's Dictionary 50p, was released into circulation in 2005 to represent the 250th Anniversary of the publication of A Dictionary of the English Language.
The first edition of the dictionary contained over forty-two thousand words and was innovative at its time as the meaning of each word was illustrated with quotations. For example, lusciously was accompanied by 'Sweet to a great degree'. In fact, you can browse the entire original dictionary on this website to get an understanding of the first version.
Samuel Johnson, the author, was contacted by a group of booksellers to write a dictionary in 1746 as there was no precedent set for dictionaries at the time. Although there had been over 20 dictionaries published in England in the prior 150 years to Johnson's Dictionary none of them had been satisfactory.
Taking 9 years, Johnson was able to create his version of the dictionary all on his own. The publication of this work had far-reaching effects on Modern English itself and is widely regarded as one of the greatest single achievements in scholarship.
It was not until the Oxford Dictionary was published 150 years later than any other dictionary would come even close to Johnsons, and his name would go down in history due to his achievement.
Where Can You Buy The Dictionary 50p?
eBay is the best place to find circulated editions of the Dictionary 50p but you'll have to be careful to not pay above the market value or even worse, get scammed. There are plenty of listings each month due to a large amount of Dictionary 50p coins out there.
The Royal Mint website is also a good place to check for uncirculated versions of the coin if that is what you are searching for.
Are There Any Confirmed Errors?
There are no confirmed errors of the Dictionary 50p.
Despite this there are still quite a few listings on eBay that claim to have an error version of the coin, so be sure to keep an eye out. The best way to check if there is an official error for any coin is to look on the Royal Mint's website and see if the error has been confirmed there.