The Diversity 50p, better known as the Diversity Built Britain 50p, celebrates the culture of Britain with a stunning design; but how much is it worth today, and is it rare?
Unfortunately, the Diversity Built Britain 50p is not very rare, but it is highly sought after and collectors are willing to pay £1.55 according to average values on eBay in 2022.
If you want to learn just about everything there is to know about this coin then you've come to the right place.
Diversity Built Britain 50p Mintage
The Diversity Built Britain 50p was the first in a planned series of coins to pay tribute to the contribution people from Black, Asian, and minority ethnic BAME communities have made to the country.
It had a mintage of 10,300,000, which is quite a large amount for a commemorative 50p coin. This is why it isn't considered very rare, and it is still very likely that you'll come across one given that it has only been in circulation for a few years.
The rarest 50p in current circulation has a mintage of 210,000, for example.
In terms of rarity, it is similar to other 50p coins such as the 2016 Peter Rabbit or Jeremy Fisher coins. In order for a 50p to be classified as 'rare', you're looking for a mintage nearer to a million or two and in some cases even less.
Uncirculated Versions
As with many commemorative coins, the Royal Mint also issued the coin in uncirculated varieties for collectors
You can find a summary of these in the table below, alongside the mintage and values.
| | | |
| --- | --- | --- |
| Version | Mintage Limit | Price (At Issue*) |
| Brilliant Uncirculated | N/A | £10.00 |
| Silver Proof | 25,010 | £57.50 |
| Silver Proof Piedfort | 2,510 | £100.00 |
| Gold Proof | 960 | £1,125.00 |
| Gold Proof Piedfort | 210 | £2,225.00 |
Design and Meaning Behind the Diversity Built Britain 50p
Britain's history is rich in diversity. The contribution made by ethnic minorities and their communities has been a large and important part of Britain's story but has often gone unmentioned or unrecognized.
For more than a thousand years, the nation's story has been told and reflected on coins struck and released by the Royal Mint, and this coin formally named Celebrating British Diversity was created to do just that, celebrate all the people who have made Britain what it is.
The coin was released during Black History Month and is the result of years of work from the Banknotes of Colour campaign which was led by Zehra Zaidi and Dr Patrick Vernon.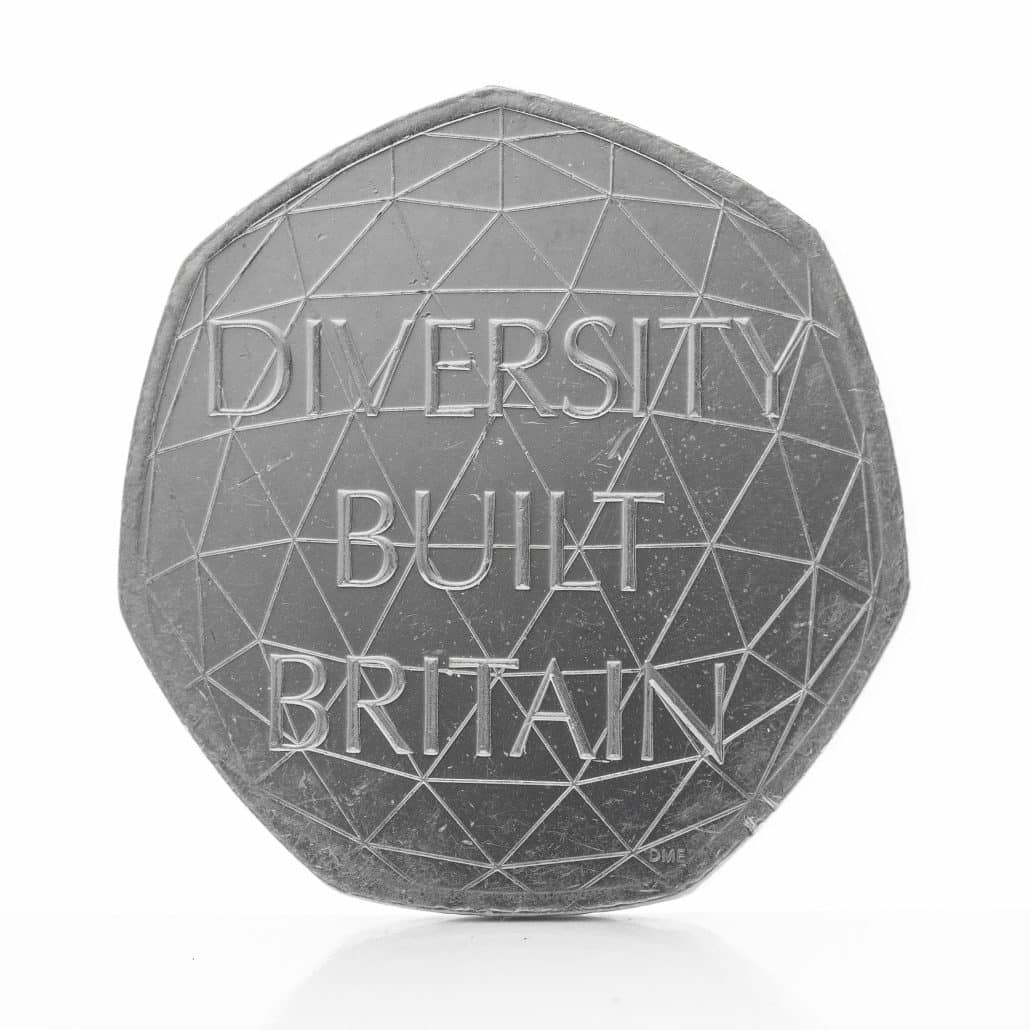 The reverse side of the coin was designed by Dominique Evans. It features the words DIVERSITY BUILT BRITAIN in all capital letters with the three words centred and stacked on top of each other presented on a structure of interconnected triangles. The lines link together to form a network. Each part is just as important as the others to unite and make up the entire design.
The initials DME are seen in the lower right corner of the coin. They stand for the designer, Dominique Evans. Dominique began thinking about the people who inspired him and what diversity meant in his own personal life to come up with a coin design.
He strongly believes that no matter where a person is born, we all belong under the same sky. This is what prompted his design of a geometric dome in the background with its interconnecting lines. Each section is equal and forms a triangular shape to represent strength.
The coin was designed to celebrate the diversity that built Britain and is part of the special commemorative coins. This one was circulated and marked 2020, alongside the infamous Brexit coin bearing the inscription 'Peace, prosperity and friendship with all nations'. It consists of a Cupronickel alloy with an 8.00g weight, a diameter of 27.3mm, and it is 1.78mm thick.
The Obverse design is that of Queen Elizabeth II designed by Jody Clark. At 33, Jody Clark was the youngest person to design the monarch's profile on this currency.
Jody Clark was also the first Royal Mint employee to design a UK definitive coin portrait in more than 100 years. He had only been working at the Royal Mint for about two years prior. The new design would be the first time her portrait had been changed in 17 years.
In this version, her mature head is crowned and facing right with her coronation crown. Surrounding her head are the words 50 PENCE * 2020 * ELIZABETH II * D * G * REG * F * D *, which translated means Elizabeth the Second, by the Grace of God, Queen, Defender of the Faith. The designer's initials, JC, are seen just below the Queen's neckline.
The edge is plain with no inscription.
Where Can You Buy The Coin?
Before you jump into purchasing a circulated version of the coin online, remember that there's still a good chance of coming across one of them in your change.
If you don't want to wait, eBay is a great option for both circulated and brilliant uncirculated versions. For silver or gold proofs, it's better to purchase directly from the Royal Mint or an authorised dealer.