The Fencing 50p is worth £1.73 on average according to sold values on eBay in 2022.
Keep reading to see what makes this Olympic 50p so special, and how likely it is that you'll come across one in your change.
Fencing at the Olympics
At the 2012 London Summer Olympics, fencing was played at the ExCel Exhibition Centre from July 28 through August 5, 2012.
Fencing included 204 competitors from 44 nations and featured 10 events. Six of the events were individual competitions, and the rest were teams.
Italy took home the most medals winning 7 in total. They won 3 gold medals, 2 silver, and 2 bronze. South Korea followed very closely behind in second place with a total of 6 medals. They won 2 golds, one silver, and 3 bronze.
China came in third with 2 gold medals and 1 Bronze for a total of 3 medals. Additionally, Ukraine, Hungary, and Venezuela each won a gold medal.
Is The Fencing 50p Olympic Coin Rare?
The Fencing 50 pence Olympic coin is considered to be the 20th rarest of the 29 Olympic coins based on mintage numbers alone. There were 2,115,500 Fencing 50p coins minted.
As with other special commemorative coins, this coin was also issued in sets that include:
London 2012 Sports Collection Collector Album
London 2012 Silver 50p Sports Collection
The Fencing Olympic 50 Pence coin was also minted in:
Silver Brilliant Uncirculated variety in 0.925 Silver limited to 30,000 mintage, but the actual mintage is unknown.
One very special 0.917 Gold Proof FDC was presented to the artist, Ruth Summerfield.
Could You Find This Coin In Your Change?
Most Olympic coins were collected during the year they entered circulation.
This, combined with the low mintage, means that it is highly unlikely that one of these coins would appear in your change – but not impossible.
There are also 29 coins in total, ranging from weightlifting to hockey to cycling, so don't lose all hope of finding one.
Fencing 50p Reverse Design
The Fencing 50p coin was designed by Ruth Summerfield. She created an image of two fencers with one lunging in an attack. Despite the aggressive lunge attack, the opponent appears to have landed a point.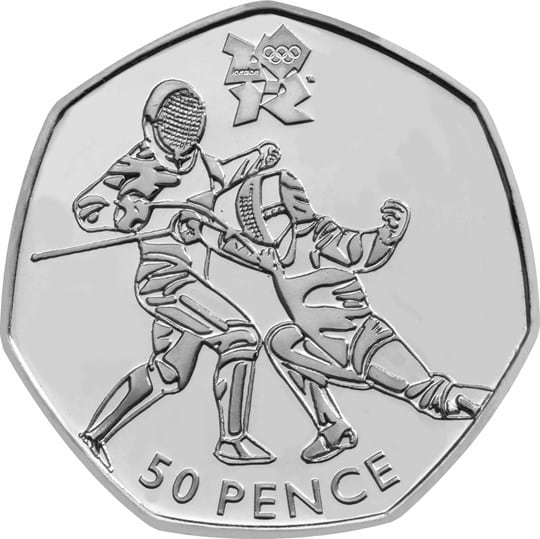 Following the pattern of all Olympic 50p coins, the 2012 Olympic logo is seen at the centre top.
The words 50 PENCE are centred and slightly curved upward at the bottom underneath the fencers' feet in the image.
50p Olympic Coin's Design
All 29 of the special commemorative Olympic coins were issued in honour of the 2012 London Olympics and Paralympics. Like other 50 pence coins, they are a 7-sided shape made of Cupro-nickel alloy. The coins weigh 8.00 g, have a diameter of 27.3 mm, and are 1.78 mm thick.
The Obverse design features Her Majesty as depicted by Ian Rank-Broadley in the Fourth Portrait. The words ELIZABETH II * D * G * REG * F * D * 2011 surround her image.
The edge of the coin is plain with no inscription.
About the Designer
The Royal Mint held a competition to choose who the 29 individual designers would be to create the reverse images on these special commemorative coins. Ruth Summerfield was chosen to design the Fencing 50p.
Ruth Summerfield was working nights as a radiologist at the University Hospital of North Staffordshire when she saw an advertisement for the contest. During her downtime, she sketched her design.
She comes from a family of sports-minded boys but is not an athlete herself. So, she was happy to be part of the Olympic games by having her coin design chosen.
She was interested in depicting an image of fencing because she had a friend who participated in the sport. She also was interested in how a fencer's body makes interesting and dramatic shapes that she thought would look great on the 7-sided coin.