The 2002 Golden Jubilee marked 50 years since Queen Elizabeth II succeeded the throne and was commemorated by the Royal Mint with a special Golden Jubilee £5 coin – but how much is this coin worth today?
The regular version of the coin is worth just above face value at around £6.01 according to the latest values on eBay, but proof versions can sell for much more.
In the rest of this article, we'll take a deep dive into the versions of the Golden Jubilee coin, which one is worth the most and how you can tell which one you have.
Let's get into it.
Golden Jubilee £5 Coin Design
The obverse design of the 2002 Golden Jubilee £5 coin features the portrait of Queen Elizabeth II designed by Ian-Rank Broadley, whose initials can be seen in the shoulder truncation.
If you are familiar with the 1977 Jubilee coin, which celebrated 25 years since the Queen's succession to the throne, then the reverse design on the 2002 golden Jubilee £5 may seem familiar.
This design shows her majesty on horseback with the inscriptions ELIZABETH · II · DEI · GRA · REGINA · FID · DEF; and · AMOR · POPULI PRÆSIDIUM REG above. Towards the bottom, the date 2002 can be seen separated by the Royal Arms surrounded by the Garet with the inscription HONI · SOIT · QUI · MAL · Y · PENSE.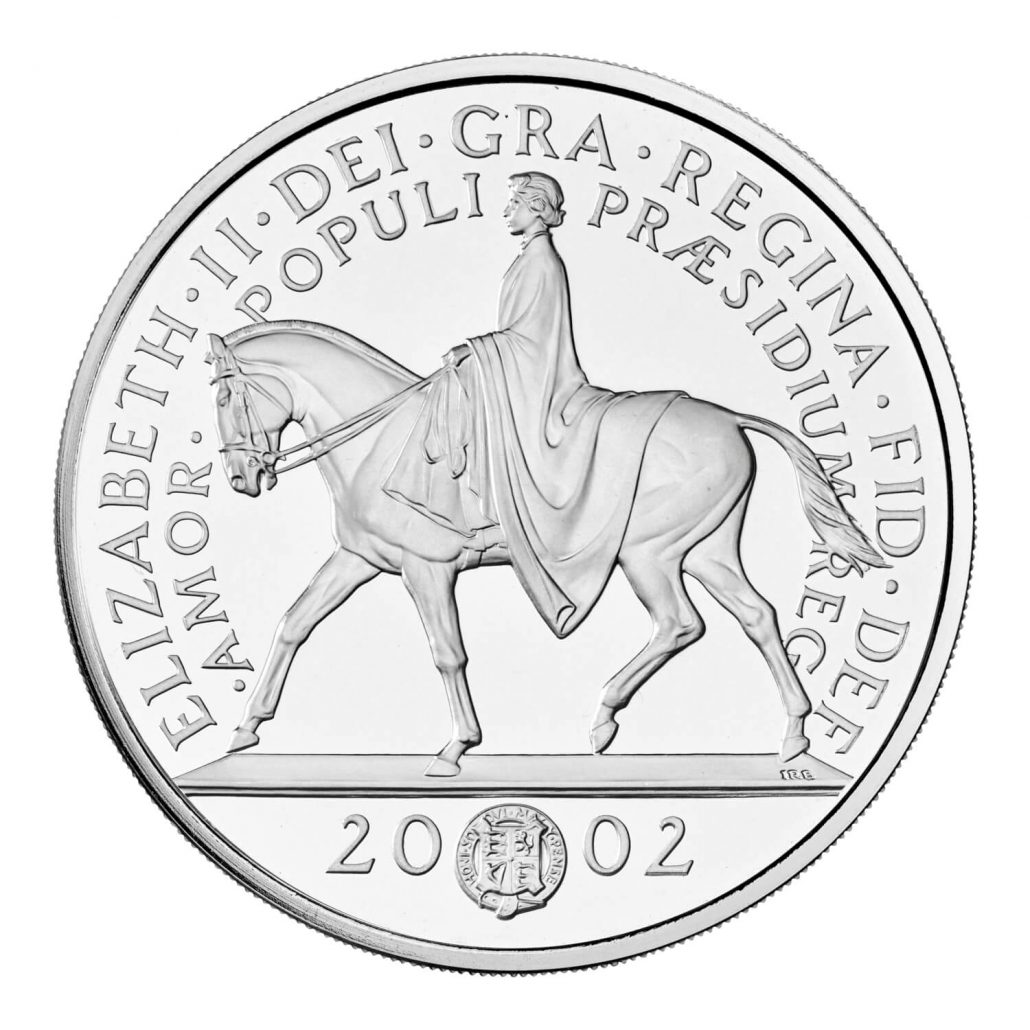 Broadley also designed this side of the coin and his initials can be seen towards the bottom right.
Different Versions Of The Golden Jubilee £5 Coin And What They're Worth
When it comes to £5 coins there are usually a few different versions produced, ranging from brilliant uncirculated to proof, and this is the same case for the 2002 £5 coin.
The value varies greatly depending on which version of the coin you have, so use the guidelines below to identify and figure out how much your specific coin is worth.
'Regular' Version
The 'regular' version refers to the uncirculated cupro-nickel coin that had the largest mintage and was issued on its own without a folder or case.
The mintage for this version is still unknown to this day, however, a total mintage of roughly 3.5 million was given for both £5 coins issued in 2002 – the other being the Queen Mother memorial crown. It's hard to say how the mintage was distributed for each version, but we can be certain that the mintage was less than this figure.
This is worth just slightly above face value with an average value of £6.01 on eBay.
Specimen Presentation Folder
A brilliant uncirculated 'specimen' Golden Jubilee £5 coin was issued with a presentation folder. This specific version had a mintage of 340,230.
The folder is purple with gold writing, and the presence of this folder is an easy way to verify that you have this version of the coin.
You can expect to pay slightly more for this version than the 'regular' version, with an estimated value of around £10.
Proof
A proof coin refers to one that is struck using a hand-finished die to produce a coin that is of the highest quality.
Proof versions produced in cupro-nickel were available as part of the 2002 proof annual coin set, of which there were 3 variations with a total mintage of around 31,000.
These were all released as part of the annual set, so it's highly unlikely to come across this version on its own. The executive version of this set sells for around £50 with 9 coins in total.
Silver Proof
Struck in 0.925 sterling silver, there was 75,000 silver proof Golden Jubilee £5 coins produced in 2022.
These can be slightly more difficult to distinguish from the regular and proof versions but can be easily identified if you have the blue presentation box and certificate that they were issued with.
You can expect to pay between £40 and £100 for one of these coins, so it could be worth checking with a local jewellery store to figure out whether you have a genuine silver version or not.
Gold Proof
A 0.9167 gold-proof version was issued with a mintage of just 3,500.
This coin is easily identifiable due to the gold that it is made from, and examples of this coin alongside a certificate of authenticity sell for between £2,000 and £3,000 with some graded versions listed up to £10,000.
Specifications
| | | | |
| --- | --- | --- | --- |
| Dimension | Cupro-nickel | Silver | Gold |
| Diameter (mm) | 38.61 | 38.61 | 38.61 |
| Weight | 28.28 | 28.28 | 36.61 |
Are 2002 Golden Jubilee £5 Coins Rare?
If we assume that the regular version shared the total mintage evenly with the Queen Mother memorial crown issued the same year then it has a mintage of 1.75 million, roughly. This is a fairly small amount, but given that these did not enter circulation it's likely that most of them were collected right away.
The proof versions had much smaller mintage figures and are considered to be quite rare and sought after, however.
About The 2002 Jubilee
Given the recent Platinum Jubilee celebrations, it's interesting to go back and take a look at the Golden Jubilee celebrations of 2002 to give some context about the £5 coin issued the same year.
The Golden Jubilee saw 4 days of celebration, starting off with a classical concert at Buckingham Palace. Over the next few days, there were church services, and community celebrations culminating in a State Procession from the Palace to St. Pauls.
You can read more about these celebrations here.
Final Thoughts
Regular versions of the 2002 Golden Jubilee £5 might not be worth a fortune, but they are definitely worth adding to any collection due to the design and commemorative value.
If you have a silver or gold version you might be surprised by just how much they are worth today.