As one of the most iconic literary characters in British history, it's only fair that Sherlock Holmes is commemorated in a suitably British way. 2019 not only marked 160 years since the birth of author Sir Arthur Conan Doyle but also saw the character given pride of place on a 50p coin – but how much is the Sherlock Holmes 50p worth today?
With the mintage recently being released in 2021, the average selling price of a Sherlock Holmes 50p on eBay is currently sitting at £1.51 for a circulated version of the coin, according to the latest values in 2022.
This has fallen from last year when the mintage figure of the coin had yet to be released. Let's take a look at why the value has fallen, and what the meaning and design of the coin represent.
How Many Sherlock Holmes 50p Coins Were Minted?
At the time of initially writing this article the mintage figure for the Sherlock Holmes 50p had not been released, however, it has now – almost a year later – been confirmed as 8,602,000.
It was initially estimated to be around 2 million, much lower than the actual confirmed figure, which is a reason to be cautious when purchasing coins before their mintage figures are released.
This can either work in your favour, or in the opposite.
For example, the Kew Garden's 50p was originally thought to have quite a large mintage and as such was overlooked until the mintage figures were released in 2014 and collectors realised just how scarce it was.
The coin is now known as one of the rarest 50p coins of our time and can sell for around £150 or more on eBay.
Does This Mean The Sherlock Holmes 50p Is Rare?
Unfortunately, a mintage of 8,602,000 is considered to be quite large for a 50p coin, and as such the Sherlock Holmes 50p is not considered to be particularly rare.
Other Versions Of The Coin
Like most commemorative coins, the Sherlock Holmes 50p was also produced in other finishes for collectors. These include silver and gold, and the mintages for these versions can be seen in the table below:
| | |
| --- | --- |
| Version | Mintage |
| Brilliant Uncirculated (in 2019 Royal Mint Set) | Limited Issue |
| Silver Proof | 6,000 |
| Silver Proof Piedfort | 2,500 |
| Gold Proof | 400 |
Commemorating Sherlock Holmes
It is undeniable that Sherlock Holmes is amongst the most famous detectives to have ever been created.
First written by esteemed author Sir Arthur Conan Doyle in 1892, Holmes has gone on to be represented by some of Hollywood's biggest names in TV and film adaptations. Over 100 years of solving mysteries have made the beloved detective a household name not only in the UK but in many countries around the world.
When it came to commemorate the 160th birthday of Sir Arthur Conan Doyle, nothing could have been more fitting than to make his iconic character a part of British coin history.
Conan Doyle's legacy paved the way for crime fiction as we know it and has continued to inspire countless authors to this day.
As a man not only dedicated to writing but also to medicine, this coin is a celebration of one of the most influential British authors in history.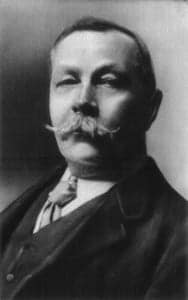 Sherlock Holmes 50p Design
The reverse design of the Sherlock Holmes 50p coin features a silhouette of Holmes wearing his infamous deerstalker at the centre. The silhouette can also be seen with a pipe in his mouth – one of Holmes' many quirks that were frequently mentioned within Conan Doyle's novels.
Surrounding the silhouette are some of Conan Doyle's most famous titles featuring Sherlock Holmes. From 'The Hound of the Baskervilles' to 'A Study in Scarlet', Sherlock enthusiasts are bound to recognise their favourite stories.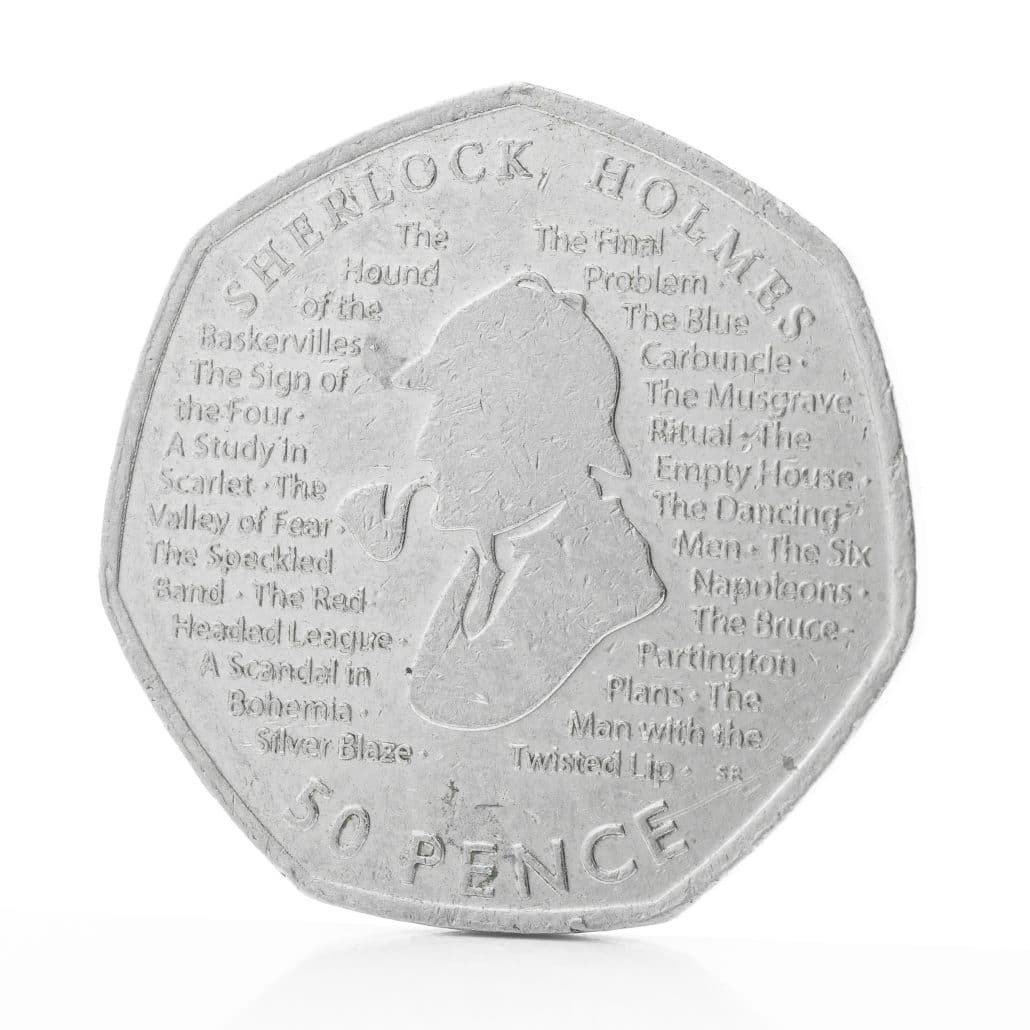 The design was created by artist Stephen Raw who also designed the 2018 uncirculated Armistice UK £2 coin. The obverse features the fifth portrait of Her Majesty the Queen as designed by Jody Clark.
Final Thoughts
The Sherlock Holmes 50p coin commemorates both an icon in British literature and one of the most beloved detectives in history.
Although it isn't one of the rarest 50p coins in circulation, it has a great design and is worth keeping an eye out for in your change.