The best place to buy uncirculated coins in the UK is from the Royal Mint, based in Wales, which produces many coins in brilliant uncirculated(BU) condition. The Royal Mint is also in charge of producing all coinage for the United Kingdom, and if you're more interested in circulating coins you can check out our blog posts to read up about those coins that you can actually find in your change.
Uncirculated coins are made with the intention of being bought as collectable items by coin collectors and usually quickly sell out upon release. Typically each coin produced in this manner is to commemorate a particular event or anniversary, for example, the Mayflower £2 proof coin or the 150th Anniversary of the British Red Cross £5 coin; although there are also many produced to celebrate each year.
Uncirculated coins can make for great gifts for family and friends so it is definitely worth checking out the Royal Mint inventory to see if there is something for you.
What is an uncirculated coin?
An uncirculated coin is simply a coin that has not entered circulation.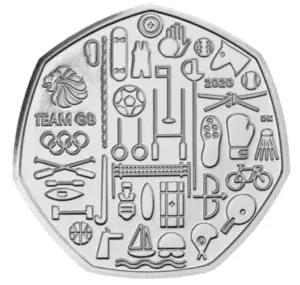 Remember, just because a coin is uncirculated the quality of the coin is not guaranteed. It is better to look at the uncirculated description as an indication that the coin is more likely to be in better condition than a coin that has entered circulation.
The main reason for this is that just because a coin is not in circulation it does not mean it has been stored correctly. Many uncirculated coins may be stored in bags with other coins which can cause surface damage to the coins, therefore reducing their quality.
It is preferable to buy an uncirculated coin in some sort of packaging, such as acrylic coin holders, so you can be more sure of the standard of the coin. Always double-check, however, as many vendors will package uncirculated coins that may have surface wear in such holders – although they will usually include this in the description of the coin.
What makes uncirculated coins more valuable?
The value of uncirculated coins is simply within the finish of the coin. Uncirculated coins are much less likely to be damaged or have surface wear compared to those in circulation, which means collectors are willing to pay a premium price.
Historical coins are much rarer to come across in uncirculated condition due to the amount of time required for them to have been stored safely, so it could be worth checking your collection to see if you happen to own such a coin.
It's also worth noting that many collectable sets have been released throughout the years and these are typically packaged and sealed correctly to allow them to maintain good quality.
Some examples of these sets include the 1960 selected coin set featuring the half-crown, florin, sixpence, threepence, halfpenny, Scottish shilling and English shilling. Also, the Royal Mint has produced an official coin set every year since 1970 which features all coinage of the year in uncirculated condition, a favourite amongst coin collectors due to the extensive history of the set.
Brilliant uncirculated vs uncirculated
So, we've established what uncirculated means, but what about brilliant uncirculated?
Brilliant uncirculated (or BU, B.U, B.UNC) is a term used by the Royal Mint to describe coins that are of a higher standard than circulating coins. These coins are machine fed into dies that are polished and finished by hand and then struck twice. BU coins are typically produced in base metal but there are some that are issued in gold and silver.
Proof coins
You may be even more confused when you come across the term 'proof' for a description of a coin.
We've decided to include it in this article because a proof coin is technically uncirculated, but what exactly does it mean if a coin is 'proof' quality?
A proof coin is the highest standard of commemorative coin that the Royal Mint produces.
A proof coin is similar to a brilliant uncirculated coin, but it is finished to an even higher standard by using a hand-finished die and being fed into the press by hand. 'The coins are then struck up to six times under lower pressure to ensure the finer details of the design are captured. Proof coins are usually struck in precious metals such as gold or platinum but are also done in base medals typically for the yearly collector sets.
Okay, so we've figured out what proof coins are, but what on earth are 'piedfort' coins?
A piedfort coin is simply a special type of proof coin that is double the weight of the standard proof version of the coin. These coins are usually struck in silver and sometimes gold and are naturally much more expensive.
Bullion coins
Bullion coins are completely different from the other types of coins mentioned in this list, as they are purely an investment item.
Bullion coins are valued purely upon the amount of precious metal that they contain and are only struck in platinum, gold and silver. The standard of these coins is of lesser importance but typically is similar to that of a brilliant uncirculated coin.