The Mrs Tiggy Winkle 50p is part of a beloved 50p coin series featuring characters from Beatrix Potter's children's books. This coin features a hedgehog washerwoman named Mrs Tiggy Winkle and is often referred to simply as the 'Hedgehog 50p' – but how much is it worth today?
A Mrs Tiggy Winkle 50p has an average value of £1.39 on eBay according to the most recent sold listings in 2022. This value only considered circulating coins, as proof versions are much more valuable.
In the rest of this article, we'll guide you through the design and mintage of the coin, as well as the other versions that are more valuable.
Is the Mrs Tiggy Winkle 50p Coin Rare?
To put it simply, the Mrs Tiggy Winkle 50p is not considered to be rare.
This is because it has a mintage of 8,800,000, which is quite a large amount for a 50p. For some context, the Kew Gardens 50p – which is the rarest 50p in circulation – has a mintage of just 210,000.
It's still sought after however, as it is part of the Beatrix Potter 50p coin collection, so it's worth holding onto them to complete the collection.
Other Versions Of The Mrs Tiggy Winkle 50p
Commemorative 50p coins, such as the Mrs Tiggy Winkle 50p, are often very popular amongst collectors.
The Royal Mint takes advantage of this and produces uncirculated versions of these coins in different finishes and metals. You can find a summary of the different versions of the Mrs Tiggy Winkle 50p in the table below.
| | | |
| --- | --- | --- |
| Version | Mintage | Value |
| Brilliant Uncirculated In Folder | 47,597 | Around £10 |
| Silver Proof First Day Release | 14,993 | £100-£200 |
| Silver Proof In Black Presentation Case | 250 | £100-£200 |
| Silver Proof In Royal Mail Packaging | 750 | £100-£200 |
The silver proof versions of the Mrs Tiggy Winkle 50p featured a coloured reverse design which is quite a unique feature for a 50p coin, and interestingly there were no gold versions of this coin produced.
Other 50p Coins Issued In 2016
2016 was a busy year for the Royal Mint, as it saw 7 new commemorative 50p coins issued into circulation.
Out of all these coins, the rarest was the Jemima Puddle-Duck 50p with a mintage of 2,100,000.
Some other coins that you will have seen in your change from this year include the 2016 Peter Rabbit 50p, as well as the Team GB 50p and the Battle of Hastings 50p – a coin which stirred a lot of commotion after one reportedly sold for over £60,000 on eBay.
Beatrix Potter And The Origin Of Mrs Tiggy Winkle
Though she had no children of her own, Beatrix Potter was a famous writer of children's books. Her famous books included an endearing character named Peter Rabbit. She also had a love for science, land preservation, as well as watercolour painting. Her full name was Helen Beatrix Potter.
Her fame for writing began when she and her brother started printing Christmas cards using their own designs. Many of the cards featured mice and rabbits. In 1890, a printing firm bought several of her drawings of a rabbit she had dubbed Benjamin Bunny to illustrate verses in A Happy Pair.
After seeing how successful her drawings were, she decided to publish her own illustrations and stories. She had written letters to the child of her governess and came up with a story about four rabbits named Flopsy, Mopsy, Cottontail, and the infamous Peter. In 1900 she revised this story to the tales that made her famous.
Potter self-published her first of thirty books in 1902. Mrs Tiggy Winkle was introduced later, in 1905 and was intended mainly for little girls to enjoy.
The Tale of Mrs Tiggy Winkle was first published in 1905 and revolves around a hedgehog washerwoman doing laundry with a child named Lucie. She is a hedgehog and the laundress for the animals in the village. The author and designer of the hedgehog named her after her real-live pet hedgehog who had the same name.
Design Of The Mrs Tiggy Winkle 50p
The coin was designed to celebrate the Beatrix Potter character, Mrs Tiggy Winkle, from the children's book entitled The Tale of Mrs Tiggy Winkle. This one was put into circulation and marked 2016. It consists of a Cupronickel alloy with an 8.00g weight, a diameter of 27.3mm, and it is 1.78mm thick.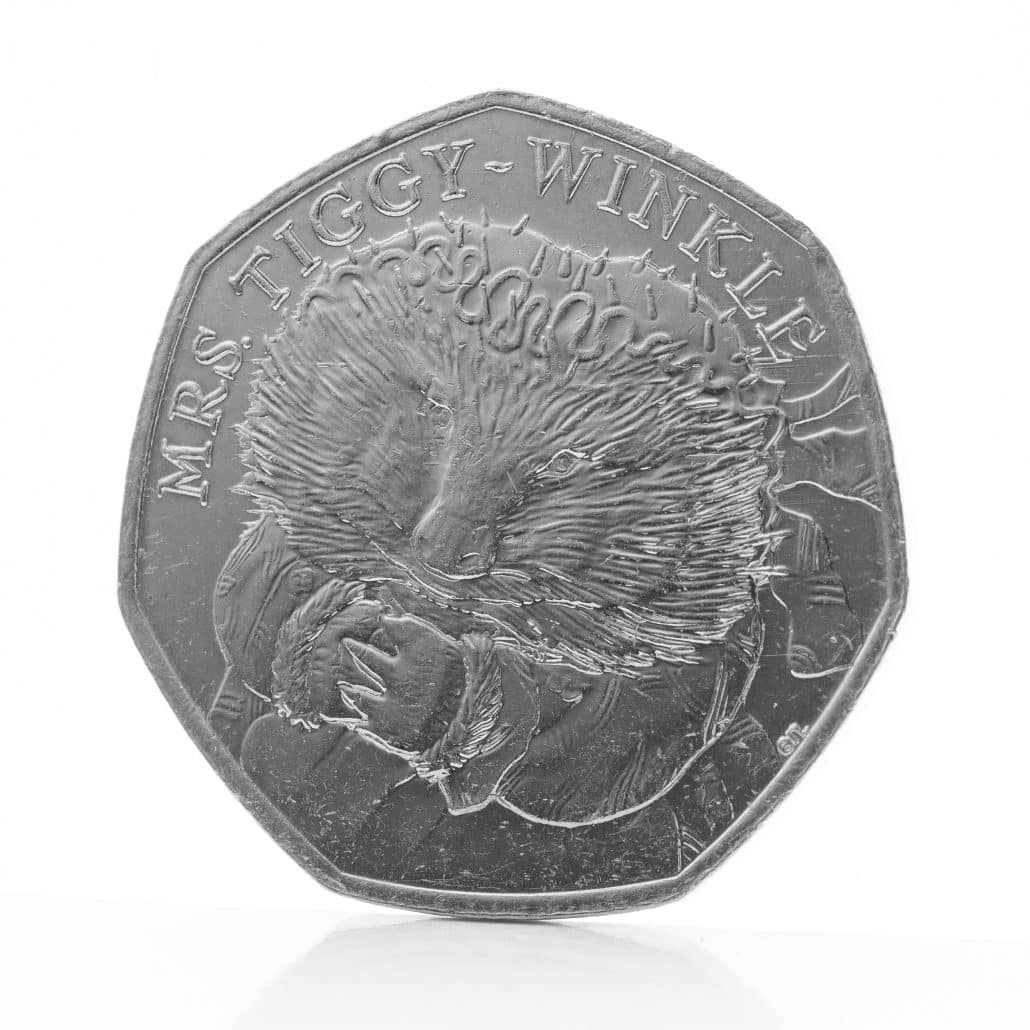 The Obverse design is that of Queen Elizabeth II designed by Jody Clark, the youngest person to design the monarch's profile on the currency. Jody Clark was also the first Royal Mint employee to design a UK definitive coin portrait in more than 100 years. The new design would be the first time her portrait had been changed in 17 years.
The Obverse Designer
Jody Clark was 33 years and had only been working for the Royal Mint for two years when he designed the Obverse image. His design was unveiled in 2015 as the fifth definitive coinage portrait of Her Majesty and the fourth portrait of The Queen in circulation.
This designer wanted to create a more positive look on the Queen. So, he introduced elements of personality giving the Queen a hint of a smile. He had examined several sculptures of The Queen before deciding on the warm expression.
In this version, her mature head is crowned and facing right with her coronation crown. Surrounding her head are the words 50 PENCE * 2016 * ELIZABETH II * D * G * REG * F * D *, translated it means, Elizabeth the Second, by the Grace of God, Queen, Defender of the Faith.
Are There Any Error Versions Of The Mrs Tiggy Winkle 50p?
There are no confirmed errors for the Mrs Tiggy Winkle 50p, and if you come across a listing for an 'error version' then you should avoid it.
This is quite common to see, and sellers usually employ this tactic either to sell their coin for a higher price or because they genuinely believe that they have an error version.
If you are ever uncertain about an error coin then all you need to do is check the Royal Mint website for confirmed errors.