The 2000 Public Libraries Act 50p is a great example of a 50p coin that you can easily find in your change any day of the week. Despite the fact that it has been in circulation for over 20 years the design still stands out to this day, but how much are they worth now?
According to the most recent sold values in 2022, the Public Libraries Act 50p sells for an average of £1.31 in circulated condition without postage and packaging.
If you want to learn why this coin sells for almost three times face value then continue reading this article as we explore the mintage and design of the coin.
Public Libraries 50p Mintage
The Public Libraries Act 50p was the only commemorative 50p released in 2000, just 3 years after the new 50p was released into circulation. The other 50p released into circulation in 2000 was the standard-issue Britannia 50p which was released each year between 1997 and 2008 before being replaced but the Royal Shield design in 2013.
11,263,000 Public Libraries Act 50p coins were minted this year, which is quite a large amount for a 50p coin, and also means that there is a good chance of finding one of these coins in your change despite the fact that it has been in circulation for over 20 years at this point.
Uncirculated Versions
Like most commemorative 50ps, the Public Libraries coin was also issued in uncirculated versions for coin collectors. These are summarised in the table below:
| | |
| --- | --- |
| Version | Mintage |
| Brilliant Uncirculated | 117,750 |
| Proof | 72,469 |
| Silver Proof | 7,634 |
| Silver Proof Piedfort | 5,721 |
| Gold Proof | 710 |
This is common practice at the Royal Mint, and these special versions tend to be worth much more than a circulated version due to the higher standard of finish as well as the different metals used.
Is It Rare?
So, does a mintage of just over 11 million make this coin rare?
Unfortunately, the mintage of this coin is quite high as far as commemorative coins go. The rarest 50p in circulation, for example, is the Kew Gardens 50p with a mintage of just 210,000. It is for this reason that the Public Libraries 50p is not considered to be very rare.
This mintage is comparable to a few other commemorative 50p coin designs such as the Roger Bannister 50p with a mintage of just over 9 million, or the 2016 Peter Rabbit 50p with a mintage of just under 10 million.
The only advantage that the Public Libraries 50p has is that it has been in circulation for a long time, which means a lot of examples will have been collected or simply lost over time. This is reflected in the average sale price on eBay, which remains over double face value.
Public Libraries Act 50p Design
The reverse design of the Public Libraries Act 50p was created by Mary Milner Dickens, a well-known sculptor and artist responsible for other iconic coin designs such as the 1992-1993 Single Market 50p.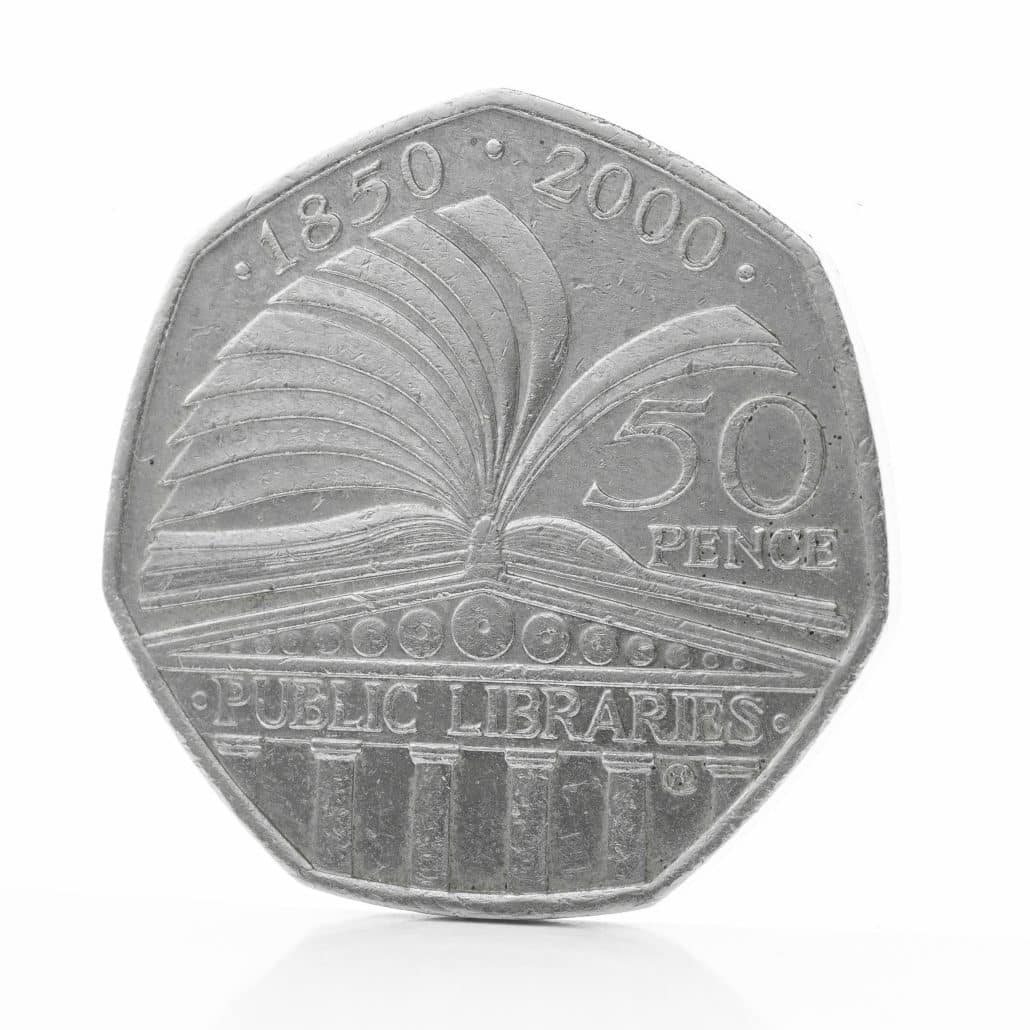 The design in question features an open book with the pages being turned over a library building with the inscriptions '1850' and '2000' at the top of the face, '50 PENCE' towards the right and 'PUBLIC LIBRARIES' towards the bottom.
The obverse design features a portrait of Her Majesty the Queen by Ian Rank-Broadley which was used on all 50p coins between 1998 and 2015.
What Does The Public Libraries Act 50p Commemorate?
Commemorative coins are produced most years by the Royal Mint, typically in the form of 50p coins, but also on some £2 coins as well before 2016. In the year 2000, the 150th anniversary of the Public Libraries Act was commemorated with the Public Libraries Act 50p.
The Public Libraries Act was passed in 1850 and gave local boroughs the power to create public libraries that were free to use.
The Act itself faced a lot of backlash, particularly due to the opinion that opening lots of new free to use libraries would cause an increase in taxation. Other reasons included questioning why libraries were even necessary when the standard of literature at the time was generally low.
Despite the backlash to the Act it still went ahead; as the prevailing argument was that an increase in libraries would lead to better education amongst the lower classes leading to lowering crime levels, as well as giving access to less privileged people who did not have access to their own private libraries.
As of 2019-2020, there are 3,667 public libraries in the UK with 7.3 million active borrowers. Public libraries are at the foundation of every community and allow for a social space where people can share their passion and meet up with friends. Not only do they allow for better education, but they allow for more social contact and development as well.
Where Can You Buy The Coin?
eBay is a great place to buy circulated versions of the coin but beware of postage and packaging costs as well as so-called 'error' versions of the coin up for sale.
For other finishes of the coin, there are still some listings on eBay however it would be more advisable to search around at established coin dealerships where you can be more sure that you are getting exactly what is on offer, especially as you head towards the more expensive versions like Gold and Silver Proof.
Are There Any Error Versions?
There are no confirmed errors of the Public Libraries Act 50p.
Any listings that you might come across on eBay stating that they are selling an error version of the coin are simply looking to profit from those who are less informed – always check the Royal Mint's website first.
This is a classic tactic used on eBay and a great example of why you should consider proper coin dealerships if you are looking to invest a significant amount into a coin.