The Robert Burns £2 coin – commonly referred to as the 'auld lang syne £2 coin' – was introduced into circulation in 2009 – but how much is it worth today?
According to average sold values on eBay in 2022, the Burns £2 Coin sells for £3.05 not including postage and packaging in circulated condition
Let's jump right into the specifications of the coin to see why it sells for this amount and why it is sought after by collectors.
Robert Burns £2 Coin Mintage
There were 3,253,000 Robert Burns £2 coins released into circulation. It is considered to be among the 15 rarest and most valuable £2 coins in circulation currently.
Given that it has also been in circulation for 10 years, it is fair to say that the coin is relatively rare, although not as rare as some other £2 coins such as the Commonwealth Games £2 Ireland coin which has a mintage of only 485,500.
Other Versions
The coin was also issued in silver and gold from the Royal Mint. Additional mintage of this coin includes 120,223 brilliant uncirculated in a presentation folder or on a card and another 106,332 brilliant uncirculated in sets.
The coin was also featured in the brilliant uncirculated 2009 United Kingdom coin set with a mintage limited to 100,000 that contained 11 coins.
The other coins in the set were a £2 Technology coin, Darwin £2 coin, One-Pound Royal Shield, 50p, 50p Kew Gardens, the rarest and most sought after British coin, and a 20p, 10p, 5p, 2p, and 1p. The set also was available in a Baby Gift Set.
The 2009 Burns coin was also available in a proof coin set with a mintage of 34,438, a Silver Proof FDC 0.925 silver and two silver sets including The 2009 UK Silver Proof Coin Set and The 2009 UK Family Silver Proof Collection as well as a Silver Proof Piedfort version that also came in the 2009 UK Silver Proof Piedfort Four-Coin Collection set.
The Design Of The 2009 Burns £2 Coin
The 2009 Burns £2 coin was issued to celebrate Robert Burns, a Scottish poet and lyricist who is regarded to be one of the great literary figures in British history.
The reverse of the special commemorative Burns £2 coin features a design that was to commemorate Robert Burns. It features an image of an extract from Auld Lang Syne, which was among his most famous works.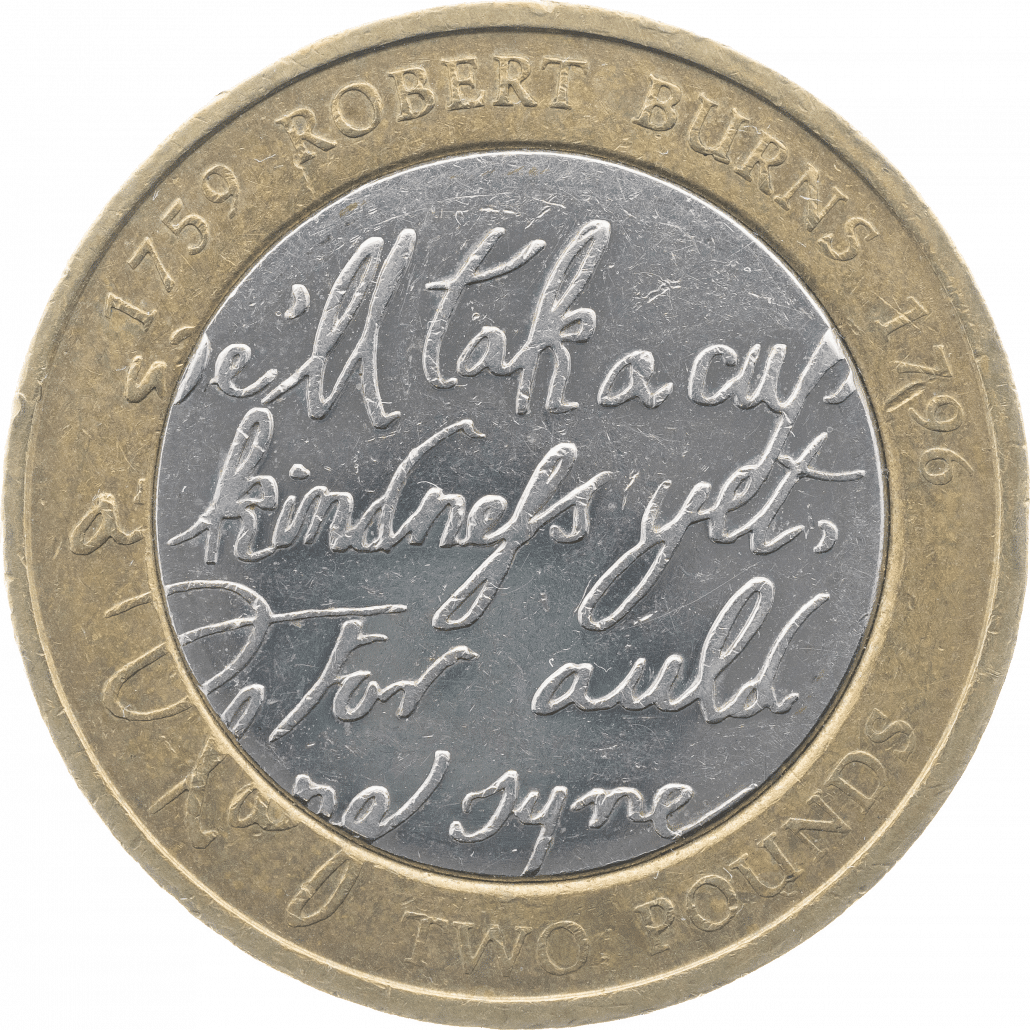 The words, "We'll tak a cup a' kindneys yet, for auld lang syne" are written in cursive and Scottish dialect. They look as though the actual handwriting of the poet was inscribed on the coin in calligraphy style. They are encircled with the outer bi-metal ring that read 1759 ROBERT BURNS 1796 and TWO POUNDS a little off-centre on the bottom outer ring.
The milled edge inscription reads SHOULD AULD ACQUAINTANCE BE FORGOT.
The obverse of the coin features the Fourth Portrait of Queen Elizabeth II facing right that appeared on the £2 coin from 1998 to 2015. She is pictured wearing the "Girls of Great Britain and Ireland" diamond tiara, which was a wedding gift from Her Majesty's grandmother, Queen Mary, in 1947.
The initials IRB are present just beneath her portrait which stand for the artist Ian Rank-Broadley. Surrounding her head all around the outer circle is her legendary ELIZABETH II DEI GRA REG FID DEF which translates from Latin to mean Elizabeth the Second, by the Grace of God, Queen, Defender of the Faith.
What Does The Coin Represent?
The coin is to celebrate the 250th anniversary of the birthday of Robert Burns, on January 25, 1759. His birthday is celebrated mostly in Scotland with a traditional haggis supper. His legacy has been lauded as "Burns clubs" and "Burns Night" where they share the meal and recite his Address to a Haggis poem.
He passed away on July 21, 1796, at the age of 37.
He was also called Rabbie Burns, the National Bard, Bard of Ayrshire, and the Ploughman Poet. In Scotland, he was regarded as the national poet of Scotland, and his poems are thought of as the foundation for the Romantic movement. Some poems such as Ae Fond Kiss, Tam O'Shanter, and Auld Lang Syne correspond to his personal love life and falling in love.
During his life, he was best known for his poems and lyrics. One of his best-known poems and songs Auld Lang Syne is still sung today on the last day of the year.
Where Can You Buy The Coin?
Going online and searching eBay is a quick and easy way to find coins. As with any online purchase or sale, just make sure you do your homework, so you are sure of exactly what you are buying.
Know which coins are rare and whether they have potential mistakes – and if you want to purchase an uncirculated coin, the Royal Mint is the number one place to visit.