What is the 1983 New Pence Two Pence Coin?
When the UK adopted a decimalised currency system in 1971, the new 2 pence coins were marked with 'NEW PENCE' on the reverse. This was implemented to make it easier for the general population to identify the coins. As the pre-existing coins were spent and new coins issued, the need for the inscription became lesser.
It was decided that in 1982, 11 years after the decimalisation, the inscription would be changed simply to 'TWO PENCE'.
Despite this change, in 1983 there were a small handful of two pence coins still with the marking of 'NEW PENCE' minted. Research seems to suggest that these were part of a collectors set, and as such were produced in brilliant uncirculated quality.
This means it is highly unlikely that these error coins are to be found in your change. If you do happen to find one of these coins, however, ensure you contact the Royal Mint to verify the coin.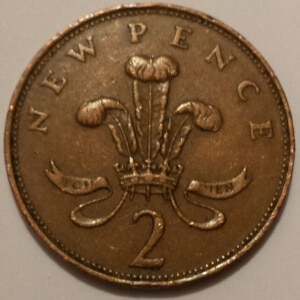 It is not known exactly how many of these error coins were produced, and how may remain out there. Due to the high quality of these coins and the fact that they contain a minting error they are highly collectable.
How much is it worth?
The value of the 1983 'NEW PENCE' two pence coin depends on a variety of factors. If the coin is being sold individually, it is valued between £200 to £600 based on previous sold prices on eBay. As part of the collectable set, you can expect values over £1,000.
Remember that these are only guidelines based on previous sale prices and that the value can vary dramatically depending on the buyer and how much they want to add the coin to their collection. As with any rare and collectable coin, ensure you take extensive due diligence before making any decision to purchase one.
Scams to watch out for
Unfortunately, there are people out there willing to take advantage of collectable coins and coin collectors in order to make a profit. When looking to either buy or sell the 1983 'NEW PENCE' two pence coin, ensure the date is correct. It is only the 1983 dated coin that will attract a premium price. There are many eBay vendors advertising these new pence 2 pence coins in other years but for ridiculous prices.
Is the 1971 'NEW PENCE' two pence coin worth anything?
Many people believe the 1971 two pence coin has collectable value as this was the first year of its production.
According to eBay sold prices, this coin can sell for between 50p and £2 on the secondary market. Still, a decent return on the value of the coin, but not in fact worth the ridiculous prices that some people seem to think they are. The reason behind this is that during this year 1,454,856,250 2p coins were minted, more than any other year in the history of the two pence.
The lesson to be learnt here is that due diligence is of upmost importance when looking into buying or selling any coin in a secondary marketplace such as eBay. It is perhaps important to consider looking into specialist coin dealerships if you are looking to invest in coins.