In June 1953 Elizabeth II acceded to the throne to become Queen, and to mark this special occasion a crown coin was minted; but how much is the coin worth today, and is it rare?
You can expect to pay around £3.30 for an uncirculated 1953 Coronation crown according to the latest values on eBay in 2022, but this can be much higher depending on the grading of the coin. At coin retailers, the price varies from around £20 to £50 depending on the condition of the coin, with proof versions selling for much more.
There is quite a lot to unpack when it comes to this coin, so let's get straight into it.
Mintage And Other Versions
Unlike many other commemorative coins, the 1953 Coronation crown was only minted in 2 versions – an uncirculated version alongside a proof version – both of which were not for general circulation.
| | |
| --- | --- |
| Version | Mintage |
| Uncirculated | 5,963,000 |
| Proof | 40,000 |
This is quite unusual to see, as with most other commemorative coins there are other versions issued such as silver proof, silver proof piedfort and gold proof. Given the context of World War 2, it is quite easy to understand why more expensive versions were put on hold.
Is The 1953 Coronation Crown Rare?
The uncirculated version with a mintage of just under 6 million is not particularly rare. The mintage alone is quite high, but when you consider the fact that the coin never entered circulation most examples were likely to be bought and kept throughout the years.
Proof versions, however, are very rare with a mintage of only forty thousand. You can pay upwards of £100 for a proof version of the coin, but it's hard to give an exact estimate without having an example graded.
What Is A 1953 Crown Made Of?
Both the proof and regular uncirculated versions were produced in Cupro-nickel, an alloy of copper that was adopted after World War 2 due to the impact on the economy.
Between 1947 and 2012 silver coloured coins were minted in cupro-nickel before the Royal Mint replacement programme was put into action.
Obverse Design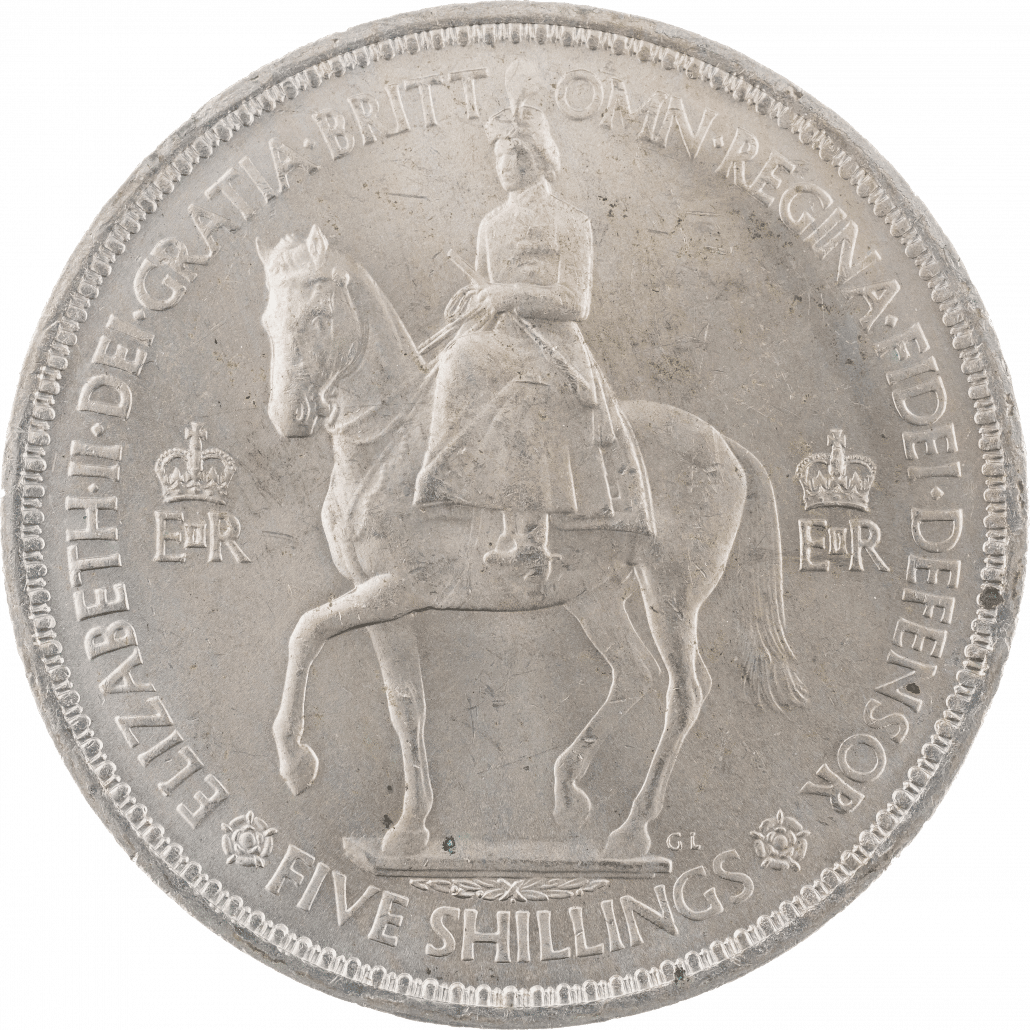 The obverse design of the 1953 Coronation crown coin is quite special in that it shows the Queen on her horse Winston, paying tribute to the ceremony of Trooping the colour.
The inscription 'ELIZABETH II DEI GRATIA BRITT OMN REGINA FIDEI DEFENSOR' can be seen toward the edge, with 'FIVE SHILLINGS' towards the bottom edge.
The edge inscription reads 'FAITH AND TRUTH I WIL BEAR UNTO YOU'.
Reverse Design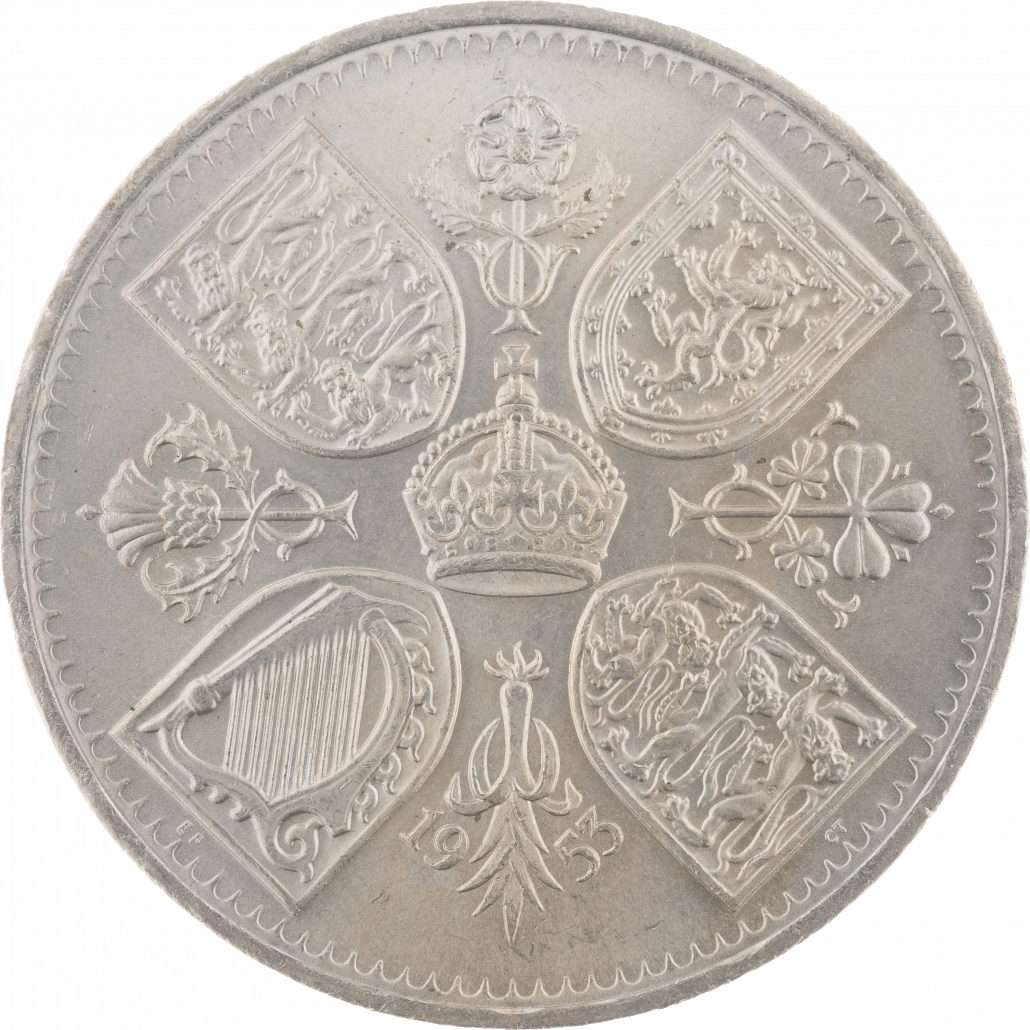 The reverse design shows the crown in centre stage with the shields of England, Scotland and Ireland at diagonals.
At right angles, the symbols of the leek, thistle, shamrock and rose form a cross.
Interesting Facts About The Coin
It wouldn't be fair to simply list the specifications of the coin without exploring some interesting facts surrounding it.
There's a reason this coin is so collectable, and knowing some of the contexts around it makes this easier to understand.
First Crown To Be Minted For Queen Elizabeth II
The 1953 Coronation crown was the first crown coin minted for Queen Elizabeth II. Who would've thought at that time that we would see the platinum jubilee celebrated just this year with the release of yet another crown to commemorate her Majesty's reign?
Every crown minted during her Majesty's reign has been highly sought after, and being the first one of all definitely adds some collectable value.
You only have to look at some of the other crowns minted during these years to see how collectable they are.
Trial Coin With Different Design
This one took a bit of digging, but before the finalised reverse design was made a trial coin was tested that featured a much more complex design.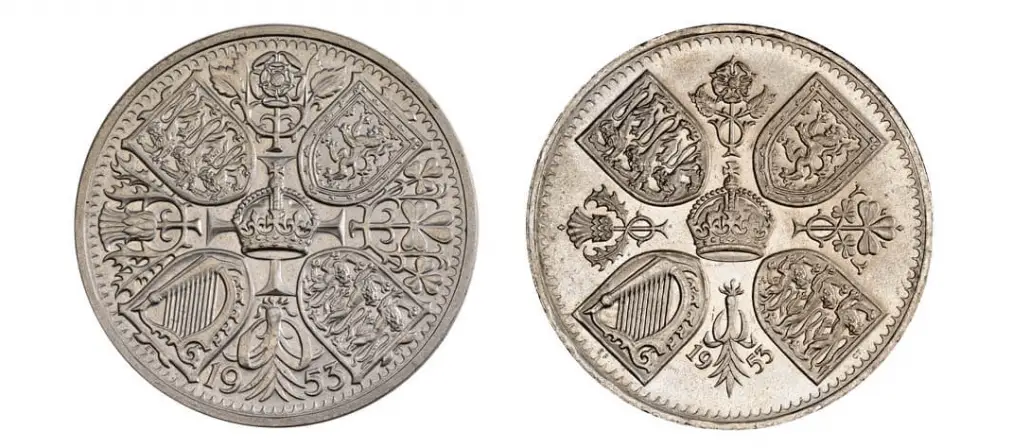 The above reverse design on the left shows the complex design that was trialled but ultimately decided against in favour of the more simple design that we can see on the right.
Only Coin To Commemorate The Coronation
The 1953 Coronation crown was the only coin issued by the Royal Mint to celebrate the occasion, which is quite rare to see, especially if you compare this to modern times where it is commonplace for multiple coins to commemorate one event.
You only have to look at the Beatrix Potter coin series to see how things have changed.
Issues With A Black Plastic Case
The coin itself was issued with a black plastic presentation case, which is quite interesting as most coin retailers do not offer the coin with the original case.
Final Thoughts
While regular uncirculated versions of the 1953 Coronation crown coin are not particularly rare, they are still highly sought after and make a great addition to any coin collection.
Proof versions are much rarer, and if you suspect that you have a proof version then it could be worth getting it graded before a proper evaluation.