The Beatrix Potter 50p coin was released in 2016 as the first coin in a several-year series. These coins were first minted in 2016 to celebrate Beatrix Potter's 150th birthday. Since the series was so popular, it continued for a few more years including the 2018 coins of which this one is the only official UK coin featuring Beatrix Potter.

The Beatrix Potter 50p coin sells for an average sale price on eBay of £1.08 for the circulated coins and as much as £5 for uncirculated versions.
Is the Beatrix Potter 50p Coin Rare?
The Beatrix Potter 50p collection was started by the Royal Mint in 2016, and thirteen different versions have been released into circulation since then. The Beatrix Potter collection has become one of the most collectable coins on the market today featuring iconic designs based on the famous children's tales written by Potter. It is clear to see why they are so desirable.
The Beatrix Potter coin pays tribute to the life of Beatrix Potter by featuring her portrait and elements from her work. The Beatrix Potter coin is the only coin in the series that does not directly feature a character from Potter's tales.
In terms of rarity, the Beatrix Potter Portrait 50p is not considered to be especially rare but is an important part of the series for collection.
The 50 Pence series included coins to celebrate the 150th anniversary of the birth of Beatrix Potter as follows in chronological order:
For the original Beatrix Potter 50p, expect to pay £1.08 for the circulated version and upwards of £5 for an uncirculated edition with packaging. Interestingly, it is difficult to find many uncirculated examples for sale, perhaps indicating that this is not one of the more sought-after coins of the series.
How Many Beatrix Potter 50p Coins Are There?
The 2016 Beatrix Potter 50p coin has a mintage of almost 7 million with 6,900,000 minted.
The Royal Mint currently also offered the coins in brilliant uncirculated condition as well as in silver and gold proof for more avid collectors. Furthermore, there are various sets that are also available featuring the coins.
Additionally, the coin was minted in:
Brilliant Uncirculated Individual sold by the Royal Mint in coin tubes with 48,650 issued
Brilliant Uncirculated in a presentation folder with 61,658 total issued as well as in mint sets with 14,777 issued in The Beatrix Potter 2016 50p Coin Collection. This set included 5 coins from 2016 including Beatrix Potter, Peter Rabbit, Jemima Puddle-Duck, Mrs. Tiggy-Winkle, and Squirrel Nutkin.
Silver Proof FDC in 0.925 Silver with 7,471 issued and a limit of 7,750.
Silver Proof Piedfort in 0.925 Silver with 2,486 issued and a limit of 2,500.
Gold Proof FDC in 0.917 Gold with 732 issued and limited to 750 coins. The gold coin was issued in 15.50g of 22-carat gold, AGW 0.46 oz. In a wooden box.
Celebrating Beatrix Potter
Beatrix Potter was a famous writer of children's books that included a much-loved character named Peter Rabbit.
Her characters stemmed from her love for nature and got their start as she and her brother designed images to illustrate verses in A Happy Pair. After seeing how successful her drawings were, she decided to publish her own illustrations and stories.
As an author, she self-published her first of thirty books in 1902.
Design and Meaning Behind the Beatrix Potter 50p
The coin was designed to celebrate Beatrix Potter as the author and illustrator of her popular children's books. In addition to the standard 50p designs, several reverse designs have been minted on the 50p coin to commemorate important events.
The 2016 50p is part of those designed as a special commemorative coin. This one was put into circulation and marked 2018. It consists of a Cupronickel alloy with an 8.00g weight, a diameter of 27.3mm, and it is 1.78mm thick.
Reverse Image Design
The first coin in the series to celebrate the 150th anniversary of the birth of Beatrix featured Beatrix Potter herself.
On the reverse side of the coin is a portrait silhouette of Beatrix Potter centred above her name in all caps and a font reflective of literature. Her name is in all caps with BEATRIX on top and POTTER centred below.
Underneath are the dates of her birth and death, 1866-1943. Peter Rabbit is centred below that with his ears popping up in between the dates instead of a dash. To the left and right of the design are decorative flowers and vines symbolic of illustrations from her works.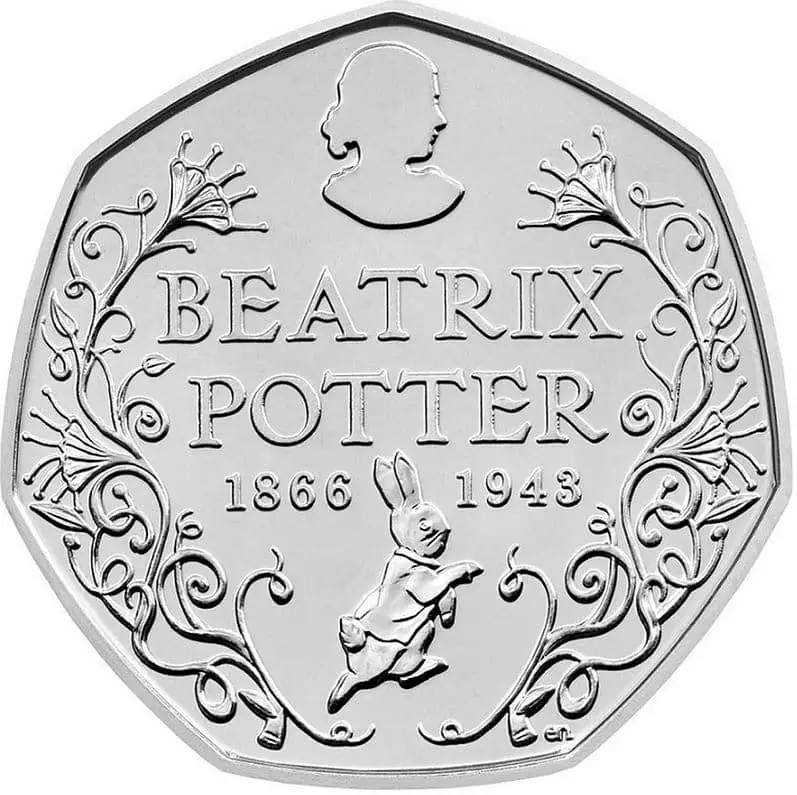 The image was designed by Emma Noble. Her initials are seen in lower case on the lower right of the coin's reverse side.
Emma Noble had designed the 2015 coins to celebrate the 150th anniversary of the birth of Beatrix Potter. When the Royal Mint issued additional Beatrix Potter coins in 2016, Emma Noble was again chosen to design them. Her designs were once again seen on 2017 and 2018 coins, including the Beatrix Potter 50p, and others like the 2018 Peter Rabbit 50p and Jemima Puddle-Duck 50p. Her designs were also featured on the 2019 collector edition Peter Rabbit coin.
Emma Noble had worked at the Royal Mint for 20 years before she was chosen to design the Beatrix Potter series of coins. She had previously worked on pieces commemorating the Diamond Jubilee and Remembrance Sunday.
Where Can You Buy The 2016 Beatrix Potter 50p?
One of the fastest and easiest ways to shop for coins is online. The average selling price on eBay is £1.08 for the circulated 2016 Beatrix Potter 50p coins and as much as £5 for uncirculated versions. That is if you are fortunate enough to find an uncirculated version.