The 2006 Egyptian Arch Bridge, often referred to simply as the 2006 £1 coin, is part of the four-bridges £1 coin series – but how much is it worth today?
According to eBay, a circulated Egyptian Arch Bridge £1 sells for an average of £2.12 in 2022. Uncirculated versions can sell for much more, with the gold proof version selling for upwards of £1,000.
Let's take a deep dive into the coin and its specifications to see why it is worth over double face value to collectors.
How Many Egyptian Arch £1 Coins Were Minted?
There were 38,938,000 Egyptian Arch Railway Bridge £1 coins minted in 2006, which is a very large amount.
It's important to note that this coin is no longer legal tender, and was withdrawn from circulation in 2017, as it is an 'old-style round pound'. These old £1 coins were replaced by the new £1 coin as the old coins became susceptible to counterfeiting.
Is It Rare?
Unfortunately, the Egyptian Arch £1 coin is not considered to be rare at all due to its large mintage.
The rarest £1 coin has a mintage of just under 1 million, as an example, while the rarest coin in UK circulation has a mintage of 210,000.
When you put the mintage of the 2006 £1 coin into perspective it is quite easy to see why it isn't considered rare. Despite this, it still sells for over £2 on average which isn't too bad for a £1 coin.
Other Versions
As we briefly mentioned earlier, there are other uncirculated versions of the coin that were produced for collectors. These are summarised in the table below, along with estimated values based on retail prices in 2022.
| | | |
| --- | --- | --- |
| Version | Mintage | Estimated Value |
| Brilliant Uncirculated | 199,109 | £5-£10 |
| Proof | 37,689 | £20-£30 |
| Silver Proof | 14,765 | £30-£70 |
| Silver Proof Piedfort | 5,129 | £100-£200 |
| Gold Proof | 728 | Around £1,000 to £1,200 |
Design Of The Egyptian Arch Bridge £1 Coin
The 2006 Egyptian Arch Bridge coin is part of the £1 round coins that were issued each year which featured a special reverse design to represent an emblem of one of the four constituents to the UK.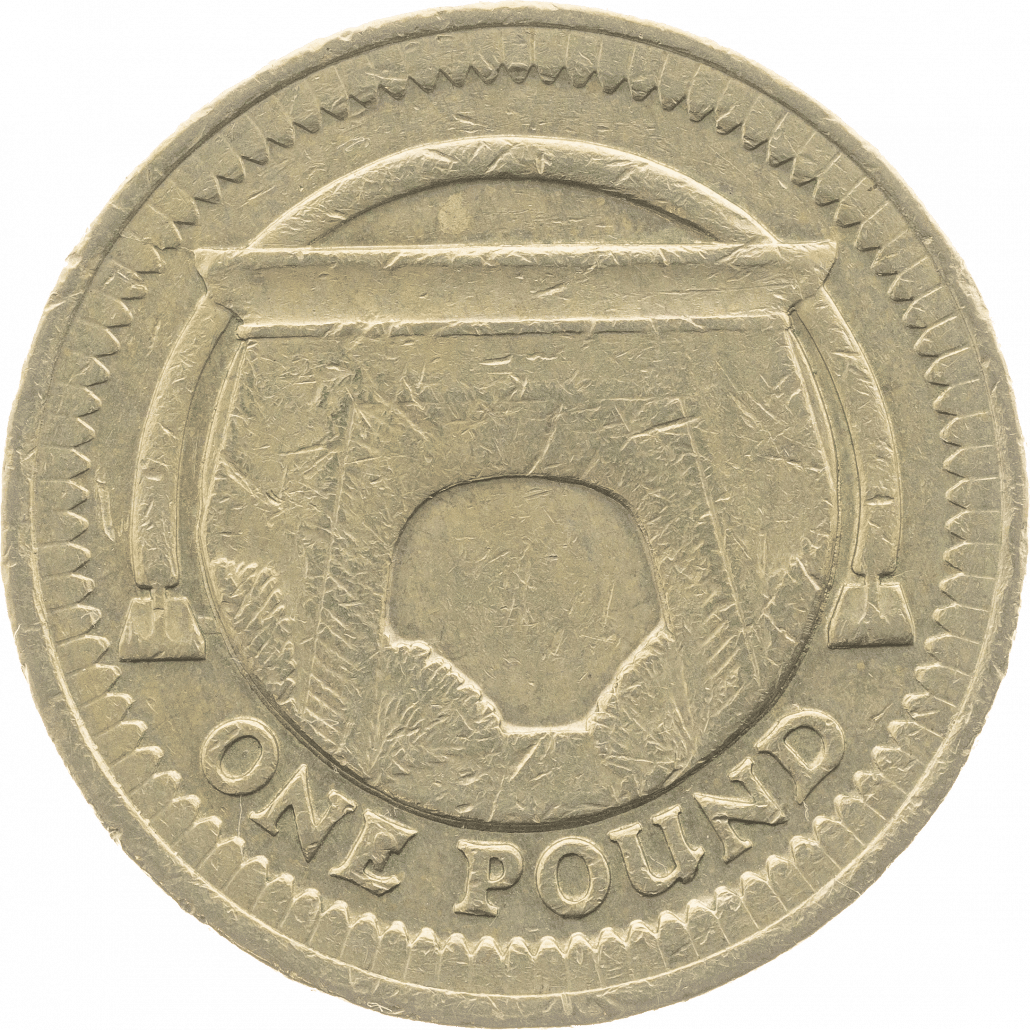 The reverse design in a four-part series starting in 2004 that depicted a decorative feature to represent bridges and pathways of Scotland, Wales, Northern Ireland, and England.
This 2006 coin represents Northern Ireland and its Egyptian Arch Bridge. The bridge is pictured on the coin surrounded by railway station canopy dags around the rim. The words ONE POUND are centred at the bottom. The designer's initials EE are hidden in the brickwork of the right base of the bridge.
This bridges series kicked off in 2004 with the Forth Railway Bridge coin. The following year, 2005, it would feature the Menai Straits Bridge to represent Wales. In 2006, the coin represented Northern Ireland with the Egyptian Arch Railway Bridge. Finally, the coin featured the Millennium Bridge to represent England in 2007.
'2006 Pound Coin Egyptian Arch Misprint'
There are no confirmed errors, or misprints, of the 2006 Egyptian Arch £1 coin – but you may come across versions that appear as such.
This is due to the large amount of fake versions of the coin that exist, and you can use this resource to learn about all of the fake versions of this coin and how to identify them.
Northern Ireland Commemoration On UK Coins
Northern Ireland was first represented on the £1 round coin in 1986 and 1991 with the flax plant. It was again represented in 1996 and 2001 with the Celtic Cross and Torch.
In 2010, Northern Ireland was represented on the £1 with the Coat of Arms of Belfast. Finally, in 2014, Northern Ireland was represented on the round pound with an image of flax and shamrock.
Northern Ireland has not been represented on the coin since the £1 coin changed to be a 12-sided, bi-metallic coin in 2017.
What Does The Coin Represent?
As the name implies, the design pays homage to the Egyptian Arch Railway Bridge. It was completed in 1851 for the Dublin and Belfast Junction Railway Company. It was the work of a collaboration between engineer Sir John Macneill and constructor William Dargan.
Locals refer to it as the Egyptian Arch or MacNeill's Egyptian Arch. The Egyptian Arch is named after the headdress worn by Ancient Egyptian pharaohs.
It is located about two miles from the border of Northern Ireland and the Republic of Ireland and less than one mile along the line from the 18 Arches viaduct also called the Craigmore Viaduct.
The bridge is also the spot where the Egyptian Arch Ambush took place on December 13, 1920.
Egyptian Arch Railway Bridge Coin Designer
The Egyptian Arch Railway Bridge coin celebrates excellence in British engineering. The image on the reverse side was designed by Edwina Ellis.
Edwina Ellis was a very creative designer engraver and printmaker. She pioneered engraving on homopolymer resins. She designed the bridge series of £1 coins with linocut. Linocut is a design or form carved in relief on a block of linoleum.
Edwina is originally from Australia. She has kept active even into what should be her golden years. She took up inline skating when she was 69 and continued skating into her 70s.
She was also the designer of the special series of bridges and pathways round pound coin reverse sides.
All in all, Edwina has designed 14 coins for the Royal Mint including:
Stephen Hawking Fifty Pence of 2019 in which a 3D effect was produced
2017 Christmas Coin
London Transport £2 2013 coin which was drawn on an iPad
First World War technology commemorative set
2018 Armistice coin
All four of the 4-part bridge series of round pounds.