The 1935 jubilee crown is a fascinating coin. Not only was it the first commemorative crown ever issued, but it also had a few different versions issued that vary greatly in price.
The regular silver edition is worth around £18 on average according to values on eBay in 2022, but this can vary greatly depending on the grade of the coin. Proof and error versions are worth substantially more, however, and the infamous gold version is worth between £60,000 and £100,000 when offered to auction.
There really is a lot to unpack when it comes to this coin, so let's get straight into it.
The First Ever Commemorative Crown
The 1935 jubilee crown was the first ever commemorative crown minted. Just think of all the commemorative crowns that have been minted since then – from the 1953 Coronation Crown to the 1977 jubilee crown.
This year marked the beginning of a tradition that has lasted to this day and will continue for many years to come.
There were crowns issued before this date, but they had always entered circulation and been used as regular currency in day-to-day life.
Different Versions Of The 1935 Jubilee Crown
When people refer to the 1935 jubilee crown they usually reference the silver version with a mintage of 714,769. This is the most common version, but several others were also produced, which are significantly more scarce.
A mintage of 714,769 is still considered to be very low for a coin, which is reflected in the value of the regular version.
Regular Version
As we mentioned, the silver version with a mintage of 714,769 is what people most commonly think of when it comes to the 1935 silver jubilee crown.
This was minted in 0.500 sterling silver and is worth around £18 if you want to purchase one on eBay. Higher graded versions can sell for much more, however, with the Royal Mint currently offering a very fine or better version for £55.00.
Error Version
The regular 1935 crown also has known error versions on the edge lettering.
Depending on the error, this can increase the value of the coin by a few hundred pounds, but you'll need to get the error verified by the Royal Mint in most cases before selling.
Raised Edge Proof
Alongside the regular version, there was also a raised edge proof crown issued in 0.925 silver. There were around 2,500 raised edge proof versions issued, which makes this version much more sought after than the 0.500 silver coin.
These coins were issued in a collectors box in proof standard which means they are also much more likely to be of a higher grade than the 0.500 silver version.
In terms of value, a highly graded raised edge proof 1935 crown can be worth up to £1,000, and sometimes more depending on the auction.
Raised Edge Proof Error
The raised edge proof 1935 jubilee crown also has a known error where the edge lettering is incorrect, more specifically in the wrong order.
The edge lettering should read 'DECUS ET TUTAMEN ANNO REGNI XXV', but in the case of the error version it reads 'DECUS ANNO REGNI ET TUTAMEN XXV'.
Examples of this can fetch up to £10,000 in some cases, and it is again worth to check the error with the Royal Mint before going to auction.
Gold Raised Edge Proof
If you, or somebody you know, happens to own a gold version of the 1935 jubilee crown then you might be pleased to know it's worth up to £100,000 at auction.
Only 25 of these coins have been confirmed as released to the public, with a total of 28 thought to have been minted. These coins were obtained through a public ballot of which 1,329 people applied.
Genuine versions come with a certificate as well as original letters from the Royal Mint to the winner of the ballot.
Specifications Summarised
| | | | |
| --- | --- | --- | --- |
| | Regular | Raised Edge Silver Proof | Raised Edge Gold Proof |
| Weight (g) | 28.28 | 28.28 | 48.01 |
| Diameter (mm) | 38.61 | 38.61 | 38.61 |
| Aloy | 0.5 Silver | 0.925 Silver | 0.917 Gold |
| Estimated Value | £18-£55 | £300 to £10,000 (depends on grade and errors) | Up to £100,000 |
Design Of The 1935 Jubilee Crown
The reverse design of the coin was created by Percy Metcalfe whose initials can be seen towards the bottom right.
The design features St. Geroge in armour on horseback with a slain dragon towards the bottom with a broken lance in its side. Around the edge, the inscription 'CROWN 1935' can be seen.
The obverse design was created by Bertram Mackennal whose initials are found towards the bottom right.
In the centre, the bare head portrait of King George V is seen with the inscription 'GEORGIVS V. DG. BRITT: OMN: REX. FD. IND: IMP:' around the edge.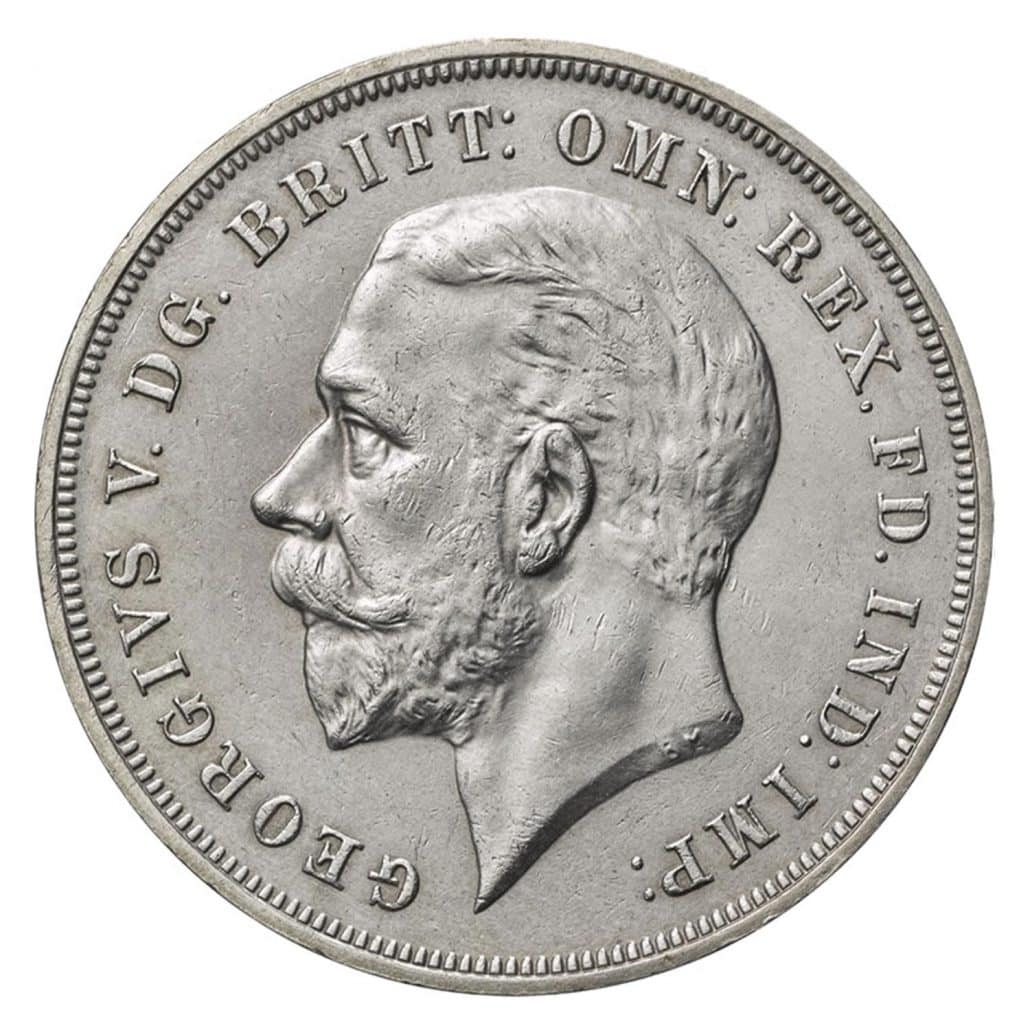 Frequently Asked Questions
We've rounded up some commonly asked questions that we get surrounding the 1935 crown – if you have any other questions that you would like to see added to this guide then please let us know.
Is A 1935 Crown Silver?
The regular version of the coin is 0.500 silver, whereas the raised edge proof version is 0.925 silver.
The raised edge proof crown has a much lower mintage and a known error that can significantly increase its value.
Which British King Celebrated Silver Jubilee In 1935?
George V celebrated his silver jubilee in 1935 and was a well-loved king.
His reign would unfortunately not continue for much longer as he passed away the following year as a result of several health problems that had existed throughout his reign.
Why Is The Coin Referred To As The 'Rocking Horse' Crown?
You may stumble across information about the 1935 jubilee crown where the coin is referred to as the 'Rocking Horse' crown.
This is simply a reference to the horse on the reverse design and is just a nickname that has been adopted for the coin.