The Boxing 50p is worth around £1.73 currently, according to the average values on eBay in 2022.
But what makes this Olympic 50p worth over three times face value to collectors, and is the value reflected in the rarity of the coin?
Mintage of the Boxing 50p Coin
Using mintage figures alone, the Boxing 50p is considered to be the 24th rarest in the set of 29 coins. There was a total of slightly more than two million with 2,148,500 Boxing 50p coins minted, similar to other Olympic coins like the Boccia, Aquatics and Athletics coins.
In the grand scheme of 50p coins, this is considered to be a very small mintage amount.
Additionally, the Boxing 50 Olympic coin was minted in:
A Specimen in card labelled 7/29
Silver Brilliant Uncirculated as 0.925 Silver
The Boxing Coin was also minted in two sets as follows:
London 2012 Sports Collection Collector Album that included all 29 coins with a mintage unknown
London 2012 Silver 50p Sports Collection that included all 29 coins in 0.925 Silver with a limit of 30,000, but the mintage is unknown
One unique Gold Proof FDC 0.917 Gold was presented to the artist, Shane Abery.
Boxing at the Olympics
Boxing is a combat sport played inside a roped-off boxing ring which is shaped more like a box. Two athletes face off wearing protective gloves, hand wraps, and mouth guards. They throw punches toward their opponent during a pre-set amount of time. To win, the boxer must be the one who is still standing when the fight reaches the final round. Boxing was first played as an Olympic sport in 1904.
The Boxing event at the London 2012 Olympics was played at the ExCeL Exhibition Centre. The rounds included 286 competitors in 13 different events determined by weight categories.
Events included men's events as follows:
Light flyweight
Flyweight
Bantamweight
Lightweight
Light welterweight
Welterweight
Middleweight
Light heavyweight
Heavyweight
Super heavyweight
Women's boxing was part of the 2012 Olympic events for the first time. The women's events included:
Flyweight
Lightweight
Middleweight
Great Britain was most successful, winning 3 gold medals, a silver, and a bronze. Luke Campbell, Anthony Joshua, and Nicola Adams all won gold. Nicola was awarded the first Olympic gold medal in women's boxing.
Ukraine followed closely behind the first place position, winning 2 gold medals. Cuba finished third, also winning 2 gold medals.
Olympic Coin Design
The Olympic Boxing coin is the shape of the standard 50 pence 7-sided heptagon design. The face value of the coin, as its name implies, is 0.50 pounds sterling. The 50p coins consist of a Cupro-nickel alloy with an 8.00g weight. The coin has a diameter of 27.3mm and is 1.78mm thick.
To pay tribute to the 2012 Summer Olympics in London, the Royal Mint released 29 special commemorative 50p coins in 2011. Each coin depicted a different sport.
To determine each of the Olympic coin's reverse side designs, the Royal Mint launched a contest to determine who would be the designer of each individual 50p coin. About 30,000 entries were submitted, and 29 designs were chosen.
Reverse Side Design of the Boxing 50p Coin
The coin features a design by Shane Abery. The image shows a pair of boxing gloves front and centre inside the ropes of the corner of a boxing ring.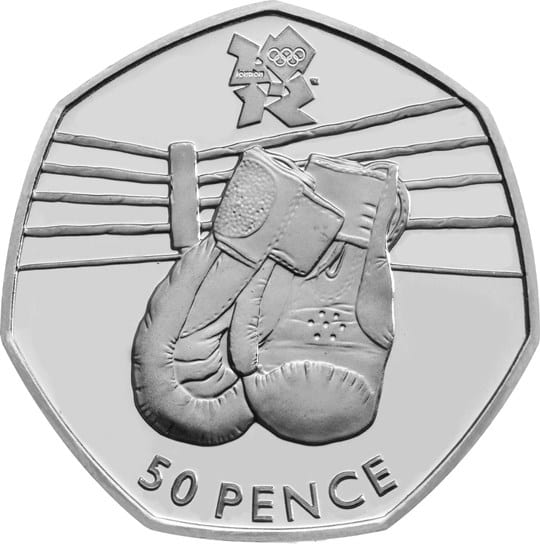 As with all the 29 Olympic 50p coins, the Olympic logo designed by Wolff Olin's consultancy firm is seen at the top of the coin's reverse side. Centred at the bottom of the coin, and slightly curved upward at each end, are the words 50 PENCE.
Information About the Designer
Each of the 29 Olympic 50p coins was designed by individual designers who were the winners of a contest to determine who the Royal Mint would use for each coin. The Boxing Olympic 50p coin was designed by Shane Abery.
Shane, a dad from Reading, Berkshire, does not consider himself to be a designer. However, he is thrilled that his design is now on a coin in circulation.
Shane's children encouraged him to enter. They had seen the Blue Peter contest announced for children and wanted to know more. When he looked into it, he noticed that there was a competition for adults as well. As a dad, he decided to give his kids a little more inspiration by entering himself and setting an example.
He decided to depict the sport of boxing because he likes it. He had competed a bit as a child. He knew a little about the sport but had little to no knowledge of or interest in any of the other sporting events.
The idea to use boxing gloves in his design came easily. He figured that when a person sees a pair of boxing gloves, they instantly link it to the sport.
Where You Can Buy The Boxing 50p Coin
Shopping online through sites like eBay is a fast and easy way to find collectable coins. The average selling price on eBay is £1.67, so make sure you are paying around this average value.
Of course, always be sure to read the description carefully before buying, so you know exactly what you are getting. And don't be afraid to ask the seller questions before you buy, since online purchases will rely on trusting a hopefully reputable seller.