The Florence Nightingale £2 commemorates one of the most important women in British history and celebrates the excellent quality of care provided by nurses to this day. Having been released into circulation in 2010, collectors have had plenty of time to get their hands on this coin, but is the Florence Nightingale £2 coin rare or worth anything?
According to sold values on eBay, you can expect to sell a Florence Nightingale £2 coin for an average of £2.81 without postage and packaging in circulated condition.
Let's take a deep dive into the coin and its specifications to see what makes it sought after.
Why was the Florence Nightingale £2 coin minted?
You probably know by now that commemorative coins are not issued for any old reason and are instead intended to honour iconic British figures and well-known historical moments, including people like Sir Isaac Newton and Isambard Brunel.
The Florence Nightingale £2 coin is no different and pays tribute to a woman whose actions are largely responsible for the excellent quality of care given by nurses to this day.
Her work during the Crimea War, which was recognised by Queen Victoria at the time, led to the establishment of her own teaching school at St. Thomas' Hospital which has continued to teach nursing students for over a hundred years.
Most famously known for her book 'Notes on Nursing', Nightingale changed the way that nurses were perceived by the British public and was largely influential in the reform of hospital and nursing standards across the UK.
Her contributions to Britain are undeniable and countless lives are estimated to have been saved as a result of her dedication to health care, making her the perfect candidate to have a coin minted in her honour.
The release of the Florence Nightingale £2 coin in 2010 marked not only the 150th anniversary of her publication 'Notes on Nursing', but also the centenary of her death in 1910.
Florence Nightingale £2 Design
The reverse design of the Florence Nightingale £2 coin was designed by the Royal Mint's Chief Engraver, Gordon Summers. It focuses on the caring hands of a nurse taking the pulse of their patient.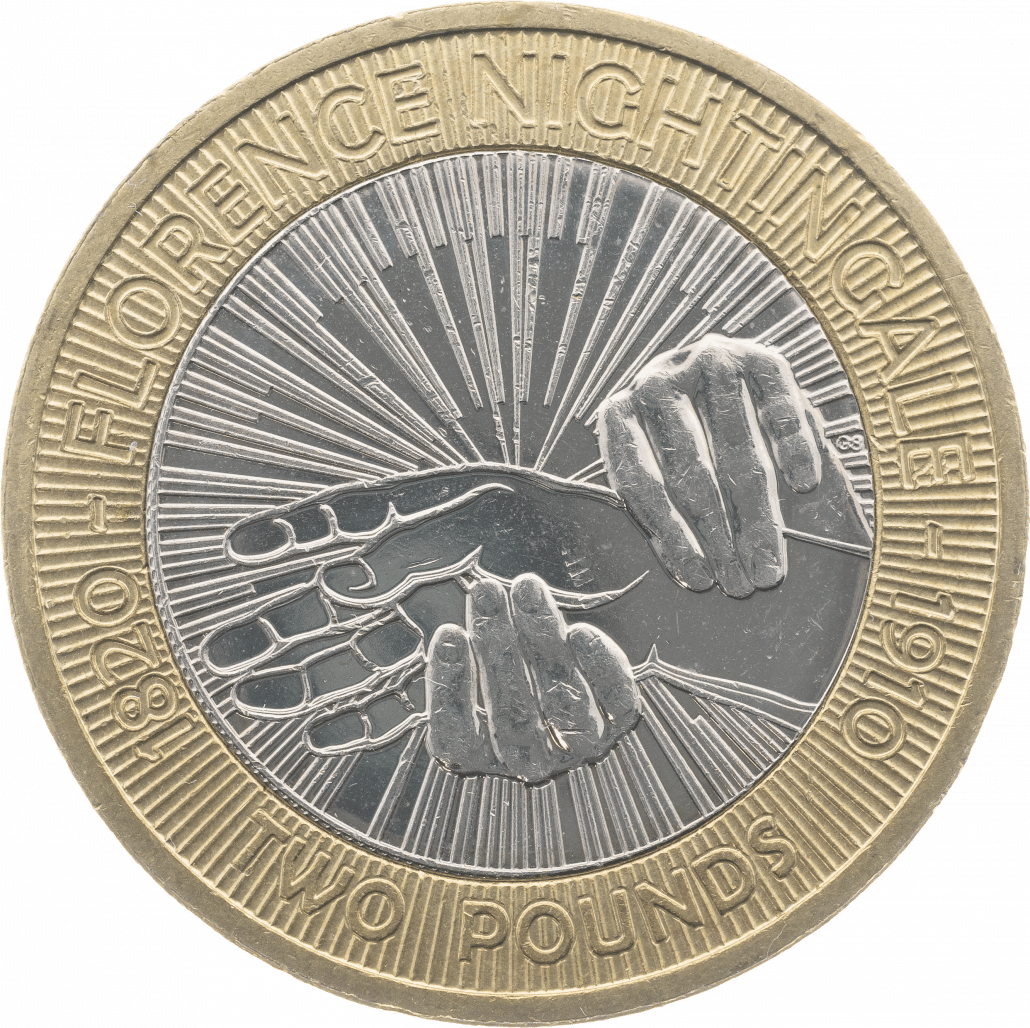 In the background is a striking sunburst effect that continues onto the gold section of the coin, almost up to the coin's edge, that contrasts the delicate detail of the hands. This appears to represent the resilience and strength of nurses and is a testament to Nightingale's achievements.
Surrounding the coin's design is the inscription '1820 – FLORENCE NIGHTINGALE – 1910'. The edge inscription of the coin reads '150 YEARS OF NURSING' in reference to the anniversary of the release of Nightingale's book 'Notes on Nursing'.
The obverse of the coin features Ian Rank-Broadley's portrait of the Queen.
How rare is the Florence Nightingale £2 coin?
The rarity of any coin depends on its mintage figure, which is usually released by the Royal Mint up to two years after its release into circulation.
The official mintage figure for the Florence Nightingale £2 coin is 6,175,500 making it one of the more common £2 coins to have been released into circulation. For context, most rarer £2 coins have mintages well under 1 million and include coins such as the Commonwealth Games Ireland and Olympic Handover coins.
Whilst the mintage figure is relatively high, the coin was released over 10 years ago meaning the majority of them will have already been taken back out of circulation by collectors or simply discarded and thrown away.
The coin is therefore much rarer than its mintage figure would have us think and the demand for it from newer collectors is only increasing as time goes on.
Florence Nightingale £2 Error?
There has been lots of speculation online about a supposed error version of the Florence Nightingale £2, but the Royal Mint has not confirmed any errors whatsoever.
This is a key reason why you need to take your time if you decide to shop for the coin online, as there are people who are trying to make a profit by listing false information.
Where Can You Buy The Coin?
As previously mentioned, the Florence Nightingale £2 coin was released in circulation within the UK in 2010, over 10 years ago.
This means it is possible for you to come across one of them in your change, although keep in mind that a lot of these coins have already been taken out of circulation by avid collectors so the probability is quite low.
If you aren't interested in waiting around to find one, you can regularly find listings on eBay for affordable prices. This is also a good way to ensure that your coin is in excellent condition which can't be guaranteed when searching for one in your change.
You can also come across uncirculated examples on the Royal Mint, such as the gold proof version, although stock is limited.
A Brief History of Florence Nightingale
Nightingale was born into a wealthy family in 1820 and was expected by her family to spend her life married to a man of similar wealth to retain her social class.
Despite this, her strong will led her to pursue her dream and become a nurse, a job that was seen as lowly menial labour to the upper class.
After spending several years grappling with a cholera outbreak in London, Nightingale sailed out to Crimea during the war. Whilst there, she spent every possible moment caring for allied forces and maintaining a clean working environment.
Her work reduced the hospital's death rate by two-thirds and she became known as 'the Lady with the Lamp' and 'the Angel of the Crimea'.
Her work during the war was recognised by Queen Victoria and she was awarded a prize of $250,000 from the British Government. True to her nature, Nightingale used the money to further her cause and funded the establishment of St. Thomas' Hospital that included her own teaching school.
Her tireless work had led to a change in how nurses were perceived by the British public with other women from wealthy families now enrolling in her school.
Based on her experiences, Nightingale wrote the now infamous book 'Notes of Nursing' which would later cause a large reform in hospital and nursing standards across Britain.
Sadly, during her time working in the war, Nightingale contracted a bacterial infection known as 'Crimean fever' from which she would never fully recover.
By the time she was 38 years old, she was mostly bedbound, but she continued to work and advocate for better healthcare for the rest of her life. She passed away after a short illness in August 1910 at the age of 90.
Final Thoughts
Florence Nightingale's work is likely to have had a positive impact on your life without you even realising it, making it the perfect excuse to go hunting for her commemorative coin.
Whilst it has become rare to find one in circulation thanks to avid collectors, there are plenty for sale online on websites such as eBay.