The Winston Churchill coin is a crown minted in 1965 to commemorate the life of Sir Winston Churchill following his death. Sir Winston Churchill was Prime Minister of the United Kingdom between 1940 and 1945 during World War Two, and later between 1951 and 1955. Known for leading Britain to victory during World War Two, Sir Winston Churchill led a decorated career serving as a Member of Parliament for 64 years and in the army as an officer.  
The Winston Churchill Crown typically sells for around £2 with postage according the past sold prices on eBay and in this article we will learn about the Winston Churchill Crown and its history. 
What is a Crown?
The British crown is a coin that was minted between 1707 and 1965 with a value of 25 pence today or five shillings/one-quarter of a pound during its circulation. The British Crown replaced the English Crown which was first introduced in 1526 under the monetary reform of 1526 under King Henry VIII.
It was a silver coin weighing around one ounce containing 92.5% silver from 1816 to 1919 and 50% silver from 1920 to 1946.
Following this, it was minted from cupronickel, an alloy of copper-containing nickel. The decline in silver content was directly related to the impact of World War One and World War Two, whereby the economic impact of the war meant that it was not feasible to continue using a high silver content. 
During the 18th century, the Crown was a regularly used form of currency, it was not until the 19th and 20th centuries that it became more of a commemorative coin.
As such, there are many Crowns from this era that are sought after by coin collectors. These include coins such as the 1887 Victoria Silver Crown and the world-renowned 1847 Queen Victoria Gothic Crown which had a mintage of just 8,000 and sells for around £5000.  
The value of a Crown depends on when it was minted, as this directly impacts not only the silver content of the coin which will inherently increase its value; but also, the historical importance of the coin. Other factors include the mintage figure as this tells us how rare the coin is and the condition of the coin itself. 
What makes the Winston Churchill Crown so collectable?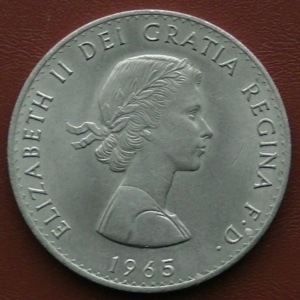 The Winston Churchill Crown was the first ever UK coin to depict a figure other than someone in the Royal Family. This makes the Crown the first of its kind and adds to its value. Furthermore, Churchill was one of the most influential figures of the 20th century and any piece of history relating to him is highly sought after. 
How much is the Winston Churchill Crown Worth?
As previously mentioned, the Winston Churchill Crown can attract a price of around £2 on eBay. Please note this estimation considers numerous past confirmed sold prices to give you the best indication of the price. 
It is important to note that the Winston Churchill Crown had a mintage of 19.6 million, a very large amount for any coin. Interestingly, the Crown was sold in the United States as they were not producing any commemorative coins at the time. This means that it is a very common coin, and as such should only attract its face value of 25 pence in circulating condition. Furthermore, due to being minted after 1946, the Winston Churchill Crown is composed of cupronickel which has significantly less value than silver. Despite this, many collectors are willing to pay above 25 pence for a better condition version of the coin. 
Buying the Winston Churchill Crown on eBay
Should you choose to buy this coin, eBay would be one of the first places to look. Be wary of scammers trying to list the coin for ridiculous prices.  
There are many fine examples available to buy on eBay, we just advise taking your time when browsing to make sure you purchase the right example. Those who are extra cautious and able to afford to pay above market price can browse specialist coin dealerships that can guarantee the quality – making the buying process less stressful.  
Collectable Winston Churchill Crown sets
There are a few sets available for purchase created in 1965 that feature the Winston Churchill Crown. Sets like these are commonplace for the Royal Mint to make to give coin collectors the chance to own something a bit different and perhaps more collectable than the coin itself. Examples of these include the Sir Winston Churchill Coin and Stamp gift set featuring the Crown alongside 2 postage stamps or the Commemorative Great Britain Coin Set from 1965 which features the Crown alongside a Halfpenny, Shilling, Threepence, Penny, Half-crown, Sixpence and Florin.   
Churchill Coin 1965 Satin-Finish
There was also a limited edition version of the 1965 Churchill crown that is known as the Satin-Finished VIP coin.
Estimates base the mintage of this coin to be around 1,000, and if you happen to have one of these coins they are worth upwards of £1,000 alongside a certificate of authenticity.
Other Coins Featuring Churchill
It is no surprise that Churchill has been featured on other coins since. To be exact, he has been featured on 2 other coins since 1965, let's take a look at which coins these are.
Churchill 2012 Olympic and Paralympic £5 Coin
The Royal Mint regularly releases £5 coins to commemorate special events. Churchill has been featured on two different commemorative £5 coins, the first of which was during the 2012 Olympic and Paralympic Games. The proof version of this coin had a mintage around 7,000.
2015 Churchill £5 Coin
In 2015, a second Churchill £5 coin was released following the 50th anniversary of his death. The Royal Mint offers the coin in a gift set alongside the original 1965 Churchill Crown, as well as a proof version of the coin with a limited mintage of just 7,500.
Final Notes
The Winston Churchill Crown should be part of any coin collector's collection. It offers the chance to own a real piece of history for an affordable price.