What is a £5 Coin?
The £5 coin is a continuation of the Crown, a commemorative coin which was replaced by the 25 pence coin following decimalisation. The 25 pence coin was discontinued in 1981 due to its large size making it uneconomical to produce.
Introduced in 1990, 9 years after the discontinuation of the 25 pence coin, the £5 coin shares the same dimensions as its predecessor but with a much larger value of 5 pounds.
Although typically produced in cupronickel, there are some £5 coins issued by the Royal Mint in other metals such as silver and gold. This clearly leads to an increase in value of the coin.
The very first £5 coin produced had an obverse designed by Raphael Maklouf and the reverse by Leslie Durbin; and paid tribute to the Queen Mother's 90th Birthday. The design of this coin features a Royal Crown, surrounded by a rose and thistle and the inscription 'QUEEN ELIZABETH THE QUEEN MOTHER ', as shown below.
Browse the Royal Mint's Shop Today
Interested in buying a coin? Browse the Royal Mint's inventory today.
Shop now
Other iconic £5 coin designs include the 1999 Diana, Princess of Wales Memorial Crown; which features a portrait of Diana. This coin features an obverse design by Ian Rank-Broadley and a reverse design by David Cornell. Released 2 years after the death of Diana, this £5 coin is very collectable.
The main point to learn with £5 coins is that they are highly collectable and released to commemorate events in British culture. The coins are released each year by the Royal Mint and due to their history, are highly sought after.
How much are they worth?
Despite being collectable, it is actually uncommon to see a £5 coin for sale above face value. As an average, a £5 coin usually sells for around £7 on eBay, including postage. This value takes into account only prices that were actually realised and takes an average of these values. Furthermore, this includes all £5 designs that have sold, and therefore for a specific design it is worthwhile to do some more research. As an example the 2004 £5 coin, commemorating the 100th anniversary of entente Cordiale, has an average sale price of just £5 including postage.
So, should I collect £5 coins?
Whether or not you should collect £5 coins is entirely up to you. If there is a particular design that you like, then it is definitely worthwhile to buy one as the price to buy such a coin is reasonable.
It is highly unlikely that you will be able to sell your £5 coin for much of a profit after holding onto it for a few years, but for many collectors it is not about the potential increase in value as much as it is a personal affinity for a design.
What is the rarest £5 coin?
The rarest £5 coin currently is the 2014 Queen Anne £5 coin. With a mintage of just 12,181 in Brilliant Uncirculated packs, the Queen Anne £5 beats the second rarest 2011 Prince Phillip £5 coin to the title of rarest £5 coin.
With such a low mintage figure, how much exactly does the Queen Anne £5 coin sell for?
The Queen Anne £5 sells for upwards of £70 according to eBay in Brilliant Uncirculated standard. Therefore, although not all £5 coins may be worth collecting from a monetary perspective, there are certain editions that may just well surprise you with their rarity and appreciation in value.
Are £5 coins legal tender?
First and foremost, lets clear up the meaning of legal tender, as it is commonly misinterpreted in today's society. So, what exactly is legal tender?
"Legal tender refers to coins or banknotes that must be accepted if offered in payment of a debt"
In England and Wales, Royal Mint coins and Bank of England notes are classes as legal tender, but only Royal Mint coins are legal tender in Scotland and Northern Ireland. So, as you can see, the term 'legal tender' is actually kind of useless in everyday life. What matters is some smaller denominations, such as the 1p or 2p coins, are only legal tender up to a certain amount; in these cases the total being 20 pence. So that means you are legally only allowed to pay with 1 or 2 pence coins up to a value of 20 pence.
This becomes interesting when you realise that £1 coins are actually legal tender for any amount. This means then, that you could technically pay for anything you want – whether that be a house or a new sports car – with £1 coins only.
£5 coins are legal tender, however due to their collectable nature it is highly unlikely to find one of these coins in your change. The Royal Mint produces these coins strictly as limited edition with collectable designs. This means that, although you could technically come across these coins in your change, the chances of this actually happening are very slim.
Where can I change a £5 coin?
So, we've establish that £5 coins are legal tender, but where can you actually exchange them?
Despite the legal tender status of the £5 coin, it can prove difficult to exchange them; this is because shops and banks alike have the right to refuse the coins as payment. There are, however, certain banks that will allow them to be deposited and therefore it is always worth trying your local bank first. Should this fail, we recommend visiting your local post office, where the coins can be used in exchange for goods and services.
Other rare £5 coins and Crowns
As the £5 coin is a continuation of the beloved Crown coin, lets take a look at some notable examples that have been released through the years.
The 1977 Silver Jubilee Crown
In 1977, to commemorate the silver jubilee of the Queen, over 37 million Crowns were minted. The majority of these coins were made of cupronickel, with some being made in proof standard (92.5% silver). The silver proof version sells for between £10 and £20 on average on eBay, depending on whether the coin is accompanied by a box an certificate. The cupronickel version sells for between £1 and £2 on eBay. You can read more in depth about the 1977 Silver Jubilee Crown in our article here.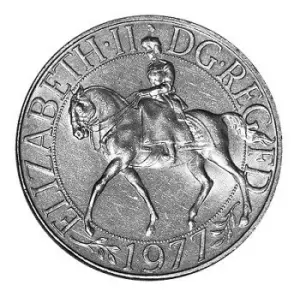 Queen's 90th Birthday £5 Coin
In 2016 the Royal Mint celebrated the Queen's 90th birthday with a £5 coin, with obverse designed by Jody Clark and reverse by Christopher Hobbs. From our research, cupronickel versions of this coin sell for around £5 to £10 including a special edition folder. On the secondary market, proof versions of this coin have sold for more than £80.