The Benjamin Britten 50p – not to be confused with the Benjamin Bunny 50p – has been around for quite a few years now, so there's a good chance you will have come across one if your change.
But how much is the Benjamin Britten 50p coin worth today?
We've looked on eBay, and a Benjamin Britten 50p sells for an average of £1.07 without postage.
So, not the most valuable 50p you could come across in your change, but still a nice find for us coin collectors.
How many 2013 Benjamin Britten 50p coins were made?
The coin was released in 2013 to mark the 100th anniversary of the birth of the British composer, conductor and pianist – Benjamin Britten.
The cupronickel version of the coin was one of three 50p's released in 2013, and has a mintage figure of 5.3 million, making it the rarest 50p coin to be released that year. The other two were the standard Royal Shield 50p (10.3 million mintage) and another figure from the arts – a commemorative Christopher Ironside 50p (7 million mintage).
 The coin was also released in gold proof, silver proof and brilliant uncirculated (BU) versions. The silver proof variant has a mintage of 1,000. The gold proof version is particularly rare, with only 150 of them ever minted.
The design of the 2013 Benjamin Britten 50p coin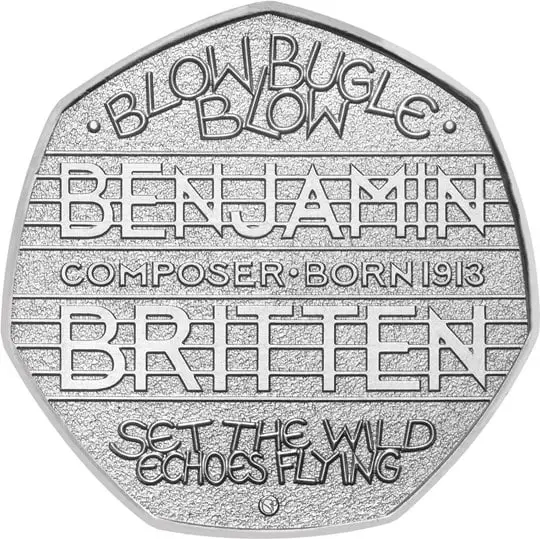 The cupro-nickel version of the coin is 27.3mm in diameter, weighs 25g and is 1.78mm thick with a plain edge.
The reverse features a portrait of the Queen by Ian Rank-Broadley, the British sculptor whose effigy of the Queen has appeared on UK coins from 1997 to 2015.
Rank-Broadley's work replaces that of Raphael Maklouf, whose portrait was featured on coins between 1985-1987. Rank-Broadley's profile of the Queen was a departure from idealised versions of the Monarch, and features a '70-year-old woman with poise and bearing', according to the sculptor himself.
The inscription 'FIFTY PENCE.2013.ELIZABETH.D.G.REG.F.D' appears around the Queen's portrait. The addition of the words 'FIFTY PENCE' on the reverse inscription are to compensate for their omission on the obverse face – their usual home.
The obverse features an engraving by the British painter, printmaker and collagist Tom Phillips, who has also designed Olympic coins and a Silver Jubilee £5. The words 'BLOW BUGLE BLOW' appear at the very top of the coin.
'BENJAMIN BRITTEN' is written on two sets of five horizontal staves bisecting the coin. The staves were added by Phillips to reference the piano, Britten's favoured instrument and at which he was a virtuoso. In the space between these staves is inscribed 'COMPOSER.BORN 1913'. The words 'SET THE WILD ECHOES FLYING' appear on the bottom of the reverse. All lettering appears in upper-case, somewhat unorthodox script. 
'Blow Bugles Blow' and 'Set The Wild Echoes Flying' are both taken from the Alfred Lord Tennyson poem 'Blow, Bugle, Blow', featured as operatic additions to Britten's 1943 song cycle Serenade for Tenor, Horn and Strings and allegedly inspired by Tennyson's trips to Killarney, in Ireland.
Phillips included these words as a 'clarion call' to Britten's anniversary. The words are sung over the nocturne (a piece of music meant to be played at night) movement of the Serenade for Tenor and Horn, by Peter Pears, the English tenor. Britten was Pears' personal and professional partner for over 40 years and Pears featured in many of Britten's operas and on his musical recordings.
Phillips has a history of placing words on coins, rather than images or portraits, as are usually featured on the obverse of commemorative 50p coins.
In 2005, Phillips designed the 50p coin that commemorated the 250th anniversary of Samuel Johnons's dictionary. Somewhat more relevant, that too featured words. For Phillips, the inclusion of text was a no-brainer, saying to the Guardian in 2013 'Who wants to look at a dull picture of an uninteresting old man, even if they are wonderful composers or talents?'
Why was it made and what does it commemorate?
The coin marks the 100th anniversary of Britten's birth, who is regarded as the central figure of twentieth century British classical music.
Britten was born on 23rd November 1913 in Lowestoft, Suffolk. Britten's father, Robert Britten, was a dentist and his mother, Edith, who worked at Charing Cross Hospital. Britten contracted pneumonia at the age of three and nearly died. He eventually pulled through but not without long-lasting damage to his heart, a condition that doctors assured his parents would prevent Britten from ever leading a normal life.
Britten was taught to play piano at the tender age of seven by his schoolmistress, Ethel, and moved onto viola lessons at 10. His love of music flourished throughout his teens, culminating in a scholarship to the Royal College of Music. His entrance exam was supervised by none other than Ralph Vaughan WIlliams, who would later become Britten's contemporary in the classical world.
After turning down the prospect of moving to Vienna for postgraduate study, Britten's first job after leaving the RCM was working in the BBC. Whilst at the Corporation, Britten met the Anglo-American poet, W. H. Auden, who was to have a profound impact on his life and sexuality, something that Britten had yet to come to terms with. Over the next three years, Britten produced many pieces for radio, cinema and theatre and began to find his feet as a composer.
In 1937, Britten met Peter Pears. A few years later, the two travelled to North America, where Britten composed Seven Sonnets of Michelangelo, the first of many collaborations with his partner.
Upon returning to Britain after the war, Britten composed the opera Peter Grimes, which was recognised around the world as the first majorly successful British opera. Over the next two decades, Britten established himself as the leading figure in British classical music, composing scores of symphonies, song cycles, sonatas and operatic pieces.
Britten died of heart failure in 1976 and upon his request was buried next to Pears, instead of Westminster Abbey, which had been offered as a final resting place. Since his death, Britten has become a polarising figure amongst British cultural commentators, with accusations of sexual impropriety towards young boys, written about in the book Britten's Children, by John Bridcut.
Where can you buy the coin?
Interestingly, the Royal Mint does not currently have any versions of the Benjamin Britten 50p available to buy.
eBay is a great place to pick up a circulated version of the coin, however, and you'll not struggle to sell one either if you manage to find one in your change.
Browse the Royal Mint's Shop Today
Interested in buying a coin? Browse the Royal Mint's inventory today.
Shop now