Released to commemorate Taekwondo at the 2012 London Olympics, the Taekwondo 50p has been in circulation for a long time – but how much is it worth today?
On average, a Taekwondo 50p coin sells for £2.55 on eBay according to recent values in 2022.
Let's take a look at the facts to see why this coin sells well above face value and what makes it so collectable.
Mintage of the Taekwondo 50p Coin
This coin that represents the Olympic sport of Taekwondo is considered to be the 8th rarest in the set of 29 coins based on mintage figures. There was a total of about 1.7 million Taekwondo 50 pence coins minted, 1,664,000 to be exact.
This is similar to some of the other Olympic 50p coins such as those representing the Shooting, Goalball or Tennis disciplines.
Additionally, the coin was minted as a Specimen in Card variety and labelled 23/29. It was also minted in Silver Brilliant Uncirculated as 0.925 Silver. And, one unique Gold Proof FDC 0.917 Gold con was presented to the artist.
The 50p Taekwondo Coin was also minted in sets that consist of 29 Fifty Pence special commemorative Olympic coins. Each coin represents a different sporting event and includes:
London 2012 Sports Collection Collector Album
London 2012 Silver 50p Silver Sports Collection
Taekwondo 50p Reverse Side Design
To pay tribute to the 2012 Summer Olympics in London, the Royal Mint released 29 coins in 2011. Each coin depicted a different sport. Unlike other coin designs, the public was welcomed to enter a contest to determine whose design would be chosen.
The winning designer of the Taekwondo coin was David Gibbons. He designed the coin to feature two Taekwondo athletes engaged in the sport. Both have legs in different kicking positions.
While Gibbons was not patterning the design after a specific martial arts position, the athlete in the forefront appears to be in a japko dollyo chagi position. While the athlete in the background seems to be doing more of a side kick.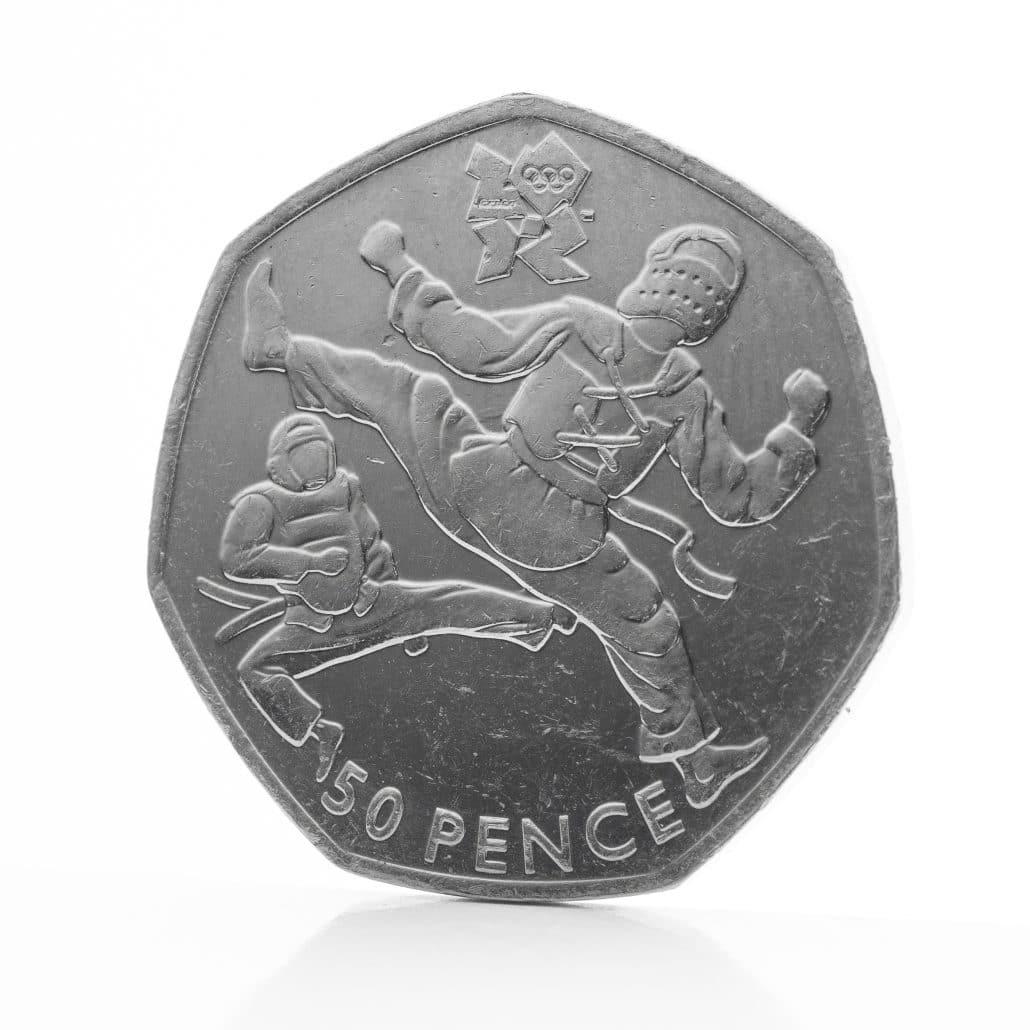 On each of the 29 special commemorative Olympic coins, there are a couple of things that remain consistent as the designs for each coin changes:
Olympic logo seen at the top and center of the reverse side of the coins. The logo was designed for the 2012 Summer Olympics by Wolff Olins consultancy firm.
The words 50 PENCE seen at the center bottom of each coin and slightly curved upward at the edges to indicate the value of the coins.
Taekwondo 50p Coin Designer
Each of the 29 Olympic 50p coins was designed by individual designers who were the winners of a contest to determine who the Royal Mint would use to establish the look of each coin. The Taekwondo Olympic 50p coin was designed by David Gibbons.
David Gibbons was better known for his paintings. However, when the Royal Mint opened up a competition looking for designers for each of their 29 Olympic coins, this Derbyshire artist wanted to be chosen.
He entered a design for five different sporting events. He chose to illustrate Taekwondo as one of his design entries because he figured it was a lesser known sport and more intricate and difficult to illustrate, so other designers would probably not attempt it. If nothing else, he wanted to challenge himself with the design.
Fitting a design into the heptagonal, 7-sided shape of the coin was a challenge in and of itself.
Since he had no personal experience with the sport, he did a lot of research. He visited a local Taekwondo group and learned about details he needed to implement for accuracy.
Taekwondo at the Olympics
Taekwondo is a Korean form of martial arts that uses kicking and punching techniques. It has been a part of the Olympics since 2000 and was an event in the London 2012 Olympics.
Opponents compete and defend themselves using their hands and their feet. Numerous kicking positions are used, such as:
Ap Chagi or front kick
Yeop Chagi, or side kick
Dollyeo Chagi, or roundhouse kick
Dwit Chagi, or the back kick
Bandae Yeop Chagi, reverse side kick
An Chagi/Bakkat Chagi, or the inner/outer crescent kick
Huryeo Chagi, or the hook kick
Bandae Dollyeo Chagi, or the reverse turning Kick
Naeryeo Chagi or the axe kick
Mureup Chigi, or the knee strike
Kawi Chagi, the scissor kick
Twi Myo Yeop Chagi/Twi Myo Dwi Chagi, or the flying side kick and flying back kick
The sport features a competition with eight different weight categories. These weight categories are evenly distributed among men and women who compete.
During the 2012 Olympics, Spain took First place overall by winning one Gold medal and 2 Silvers. China took 2nd place overall, and South Korea took third.
Where To Buy The Coin
One of the fastest and easiest ways to shop for coins, especially rare or hard-to-find coins, is online. As with any online purchase, first, do your research so you know exactly what you are buying.
We prefer eBay for most coins that are less expensive, whereas the Royal Mint can be much better for expensive coins that are uncirculated.