The 1981 Charles and Diana crown is quite a common coin to come across, but how much is it worth today?
You can expect to pay between £1 and £1.50 for a Charles and Diana Crown, according to average values on eBay in 2022.
If you want to learn more about the coin, including the much rarer silver proof version, then keep reading.
What Is A Crown Coin?
To briefly summarise a Crown is a coin that was minted between 1707 and 1965 as the British Crown and between 1526 and 1707 as the English Crown with a value of 25 pence in today's money.
The face value of crowns was changed from 25 pence to £5 in 1990, but pre-1990 crowns like the Charles and Diana coin retain a face value of 25 pence.
Originally used primarily as a form of currency, it eventually became more well known for commemorating events and as such became more collectable. Although still technically legal tender to this day, it does not make much sense to use them in shops as they are worth much more to collectors.
In recent times Crown coins have been created to commemorate well-known events or personalities, which is the case for the 1981 Charles and Diana Crown. Some other popular Crown coins include the 1977 Silver Jubilee coin, as well as the 1953 Coronation coin.
About The Charles And Diana Crown
In 1981 H.R.H Prince Charles, the eldest son of Queen Elizabeth II, married Lady Diana Frances Spencer making her the Princess of Wales.
The couple went on to have 2 children, Prince William and Harry, before separating in 1992 and eventually divorcing in 1996. Princess Diana was a very popular figure and was well received by the media for her charitable work. 
The marriage took place in St Paul's Cathedral and was watched by an estimated 750 million people worldwide on television, and was commemorated by a special crown coin.
It is no surprise, therefore, that the Royal Mint decided to produce a Crown to celebrate the event. The design for the coin can be seen below.
Reverse Design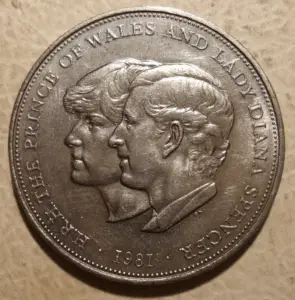 The reverse design features an iconic double portrait of Charles and Diana looking towards the left by Philip Nathan.
The inscription reads 'H.R.H. THE PRINCE OF WALES AND LADY DIANA SPENCER' and is dated 1981 towards the bottom centre.
Obverse Design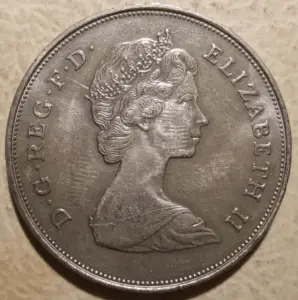 The obverse features Arnold Machin's third portrait of Queen Elizabeth II with the inscription 'ELIZABETH II D · G · REG · F · D ·'.
How Rare Is The Charles And Diana Crown?
The cupro-nickel 1981 Charles and Diana Crown had a mintage of 27,360,000, which is a very large amount. Considering that most of these coins would've been collected at the time, the regular version of the coin is not considered to be very rare whatsoever.
This does seem to be reflected in the average selling price on eBay.
1981 Charles And Diana Silver Crown
As with most commemorative coins, a silver-proof version was issued, and this version is worth substantially more.
The silver proof version had a mintage of 218,000, which is significantly lower than the regular version.
The silver content of the coin (0.841 troy ounces) alone would mean it is worth upwards of £10 depending on the price of silver at the time of the sale. Alongside the low mintage, it is clear to see why these proof versions of the coin sell can sell for around £50 with a case and certificate to avid collectors.
1981 Charles And Diana Two Coin Collector Set
A limited-edition collectors set was released which featured the silver-proof Charles and Diana coin alongside a 22 carat 1981 gold-proof sovereign.
This two-coin set had a limited issue of just 2,500 worldwide and is worth around £700 today.
How To Tell If Your 1981 Charles And Diana Crown Is Silver
Since the silver version is much more valuable, it makes sense to learn how to differentiate between the silver and cupro-nickel versions if you thought about selling the coin in the future.
The easiest way to check is to look at the dimensions of the coin. The silver version has the same diameter and weight but has less thickness to compensate for the density of the silver content:
| | | |
| --- | --- | --- |
| Specifications | Cupro-Nickel Version | Silver Proof Version |
| Weight (g) | 28.28 | 28.28 |
| Diameter (mm) | 38.61 | 38.61 |
| Thickness (mm) | 3.2 | 2.89 |
A table highlighting the difference in specification between the regular and silver versions
1991 Anniversary Charles And Diana Gold Coin
The ten-year anniversary of the wedding took place in 1991 and was commemorated by a gold-proof £5 coin (Quintuple Sovereign). Comprising 22-carat gold, this coin was issued for the Falkland Islands.  
With a mintage of 200, these coins are very rare. Should you happen to own one of these coins, you would be able to sell it for around £5,000 with a box and certificate.  
Final Thoughts
The 1981 Charles and Diana coin is instantly recognisable, and while the regular versions aren't worth a huge amount it's worth keeping an eye out for the silver versions.
Checking the thickness of the coin is the easiest way to differentiate between the regular and silver version, so be sure to give this a try if you happen to own one of the coins!