The Platinum Jubilee 50p is the most recent 50p coin issued into circulation having been released in February of this year; but what is it worth to collectors?
While we expect the value to stabilise over the next year, it looks like collectors are willing to spend around £1.48 according to the most recent values in 2022 on eBay.
Not too bad for a coin that has only been around for a matter of months. Let's take a look at what specifications we know about the coin, so you can decide if it is worth collecting or not.
How Many Platinum Jubilee 50p Coins Are There?
The maximum mintage for the coin has been set at 5,000,070 as a tribute to the 70 years reign of the Queen, but this has not been met yet and the official mintage figures will not be released until 2023.
At this time, it is known that 1,300,000 of the coins were issued into circulation through Post Offices on the 7th February 2022. However, it will be impossible to know the exact amount until the official figures are released.
Does This Mean It Is Rare?
If we assume that the maximum mintage is met, then the coin will not be particularly rare when compared to all other 50p coins currently in circulation.
The rarest 50p, for example, has a mintage of just 210,000. The 10th rarest 50p is the Olympic Shooting 50p with a mintage of 1,656,500.
If the mintage stays as it is, then the coin will make its way into the top 10 rarest 50p coins – but this is quite unlikely to happen. If the Diversity Built Britain 50p is anything to go by, we can assume that the mintage will be higher rather than lower.
How Does The Value Compare To Similar Coins?
If we assume that the mintage reaches the maximum, it will be very comparable to some other popular 50p coins.
The Benjamin Britten 50p for example has a mintage of 5,300,000 and sells for £1.32, which isn't far off the sale price of the Platinum Jubilee 50p currently.
Other Versions
Like most commemorative 50p coins, the Royal Mint issued the Platinum Jubilee 50p in a variety of uncirculated versions for collectors to purchase directly from their website.
These range from brilliant uncirculated – an entry-level finish that is of a higher standard than circulating coins – all the way to gold proof. These are summarised in the table below:
| | | |
| --- | --- | --- |
| Version | Mintage/Edition | Value |
| Brilliant Uncirculated | N/A | £7 |
| Proof | N/A | N/A |
| Silver Proof | 5,000 | £57.50 |
| Silver Proof Piedfort | 2,500 | £102.50 |
| Gold Proof | 400 | £1,150 |
Note that the exact mintage figures are not yet available, so the edition number has been given instead in cases where it is known. Values are taken from sale prices on the Royal Mint's Website.
Design
When it comes to obverse designs, pretty much every coin in circulation will feature either a portrait of Her Majesty the Queen or a commemorative series design.
The Platinum Jubilee 50p, however, has two different obverse designs depending on whether you find one of the coins in circulation or purchase an uncirculated version directly from the Royal Mint.
This is the first 50p to ever have this feature, so let's take a look at the different obverse designs so you can easily tell which version of the coin you have.
Obverse(s)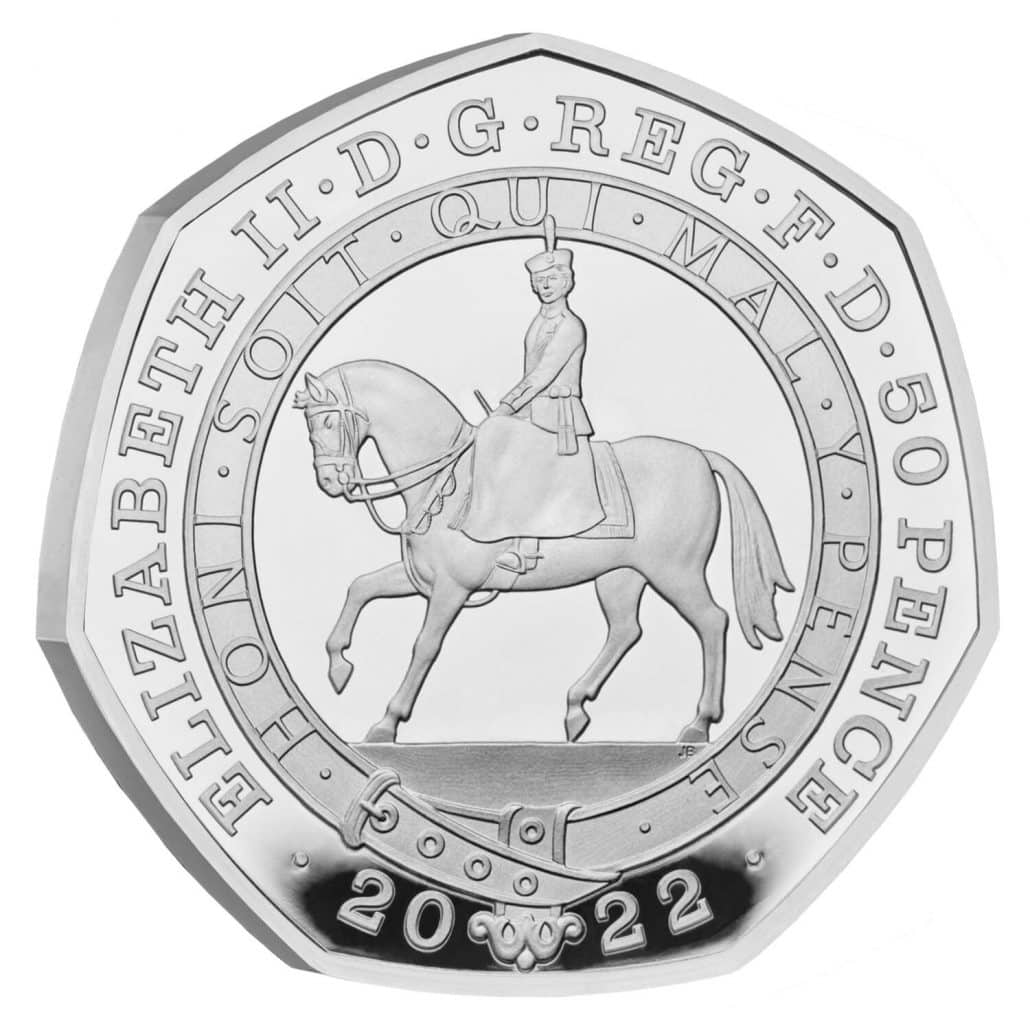 The obverse showing the Queen on horseback is a tribute to previous jubilee crowns that have been minted, including the 1977 Jubilee Crown, as well as the 1953 Coronation Crown.
This is a great throwback and something that long-time coin collectors will immediately recognise. This obverse is only available on uncirculated versions of the coin, so you won't find this design on those that you find in your change.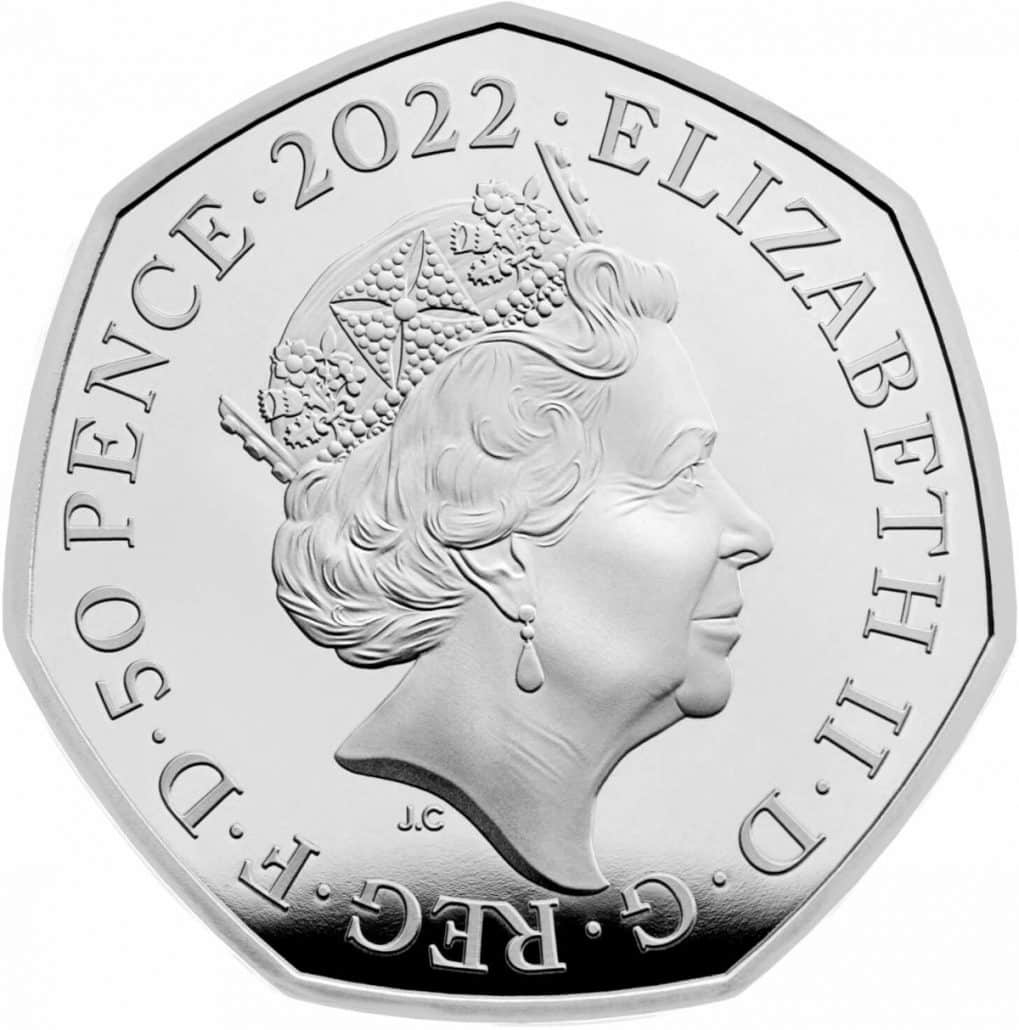 The obverse found on circulating coins is the 5th portrait of the Queen designed by Jody Clark.
This was first issued in 2015 and can be seen on most coin obverses to this day.
Reverse
The reverse of the Platinum Jubilee 50p features the number 70 across the face of the coin, with a crown and the inscription E II R 1952-2022 below.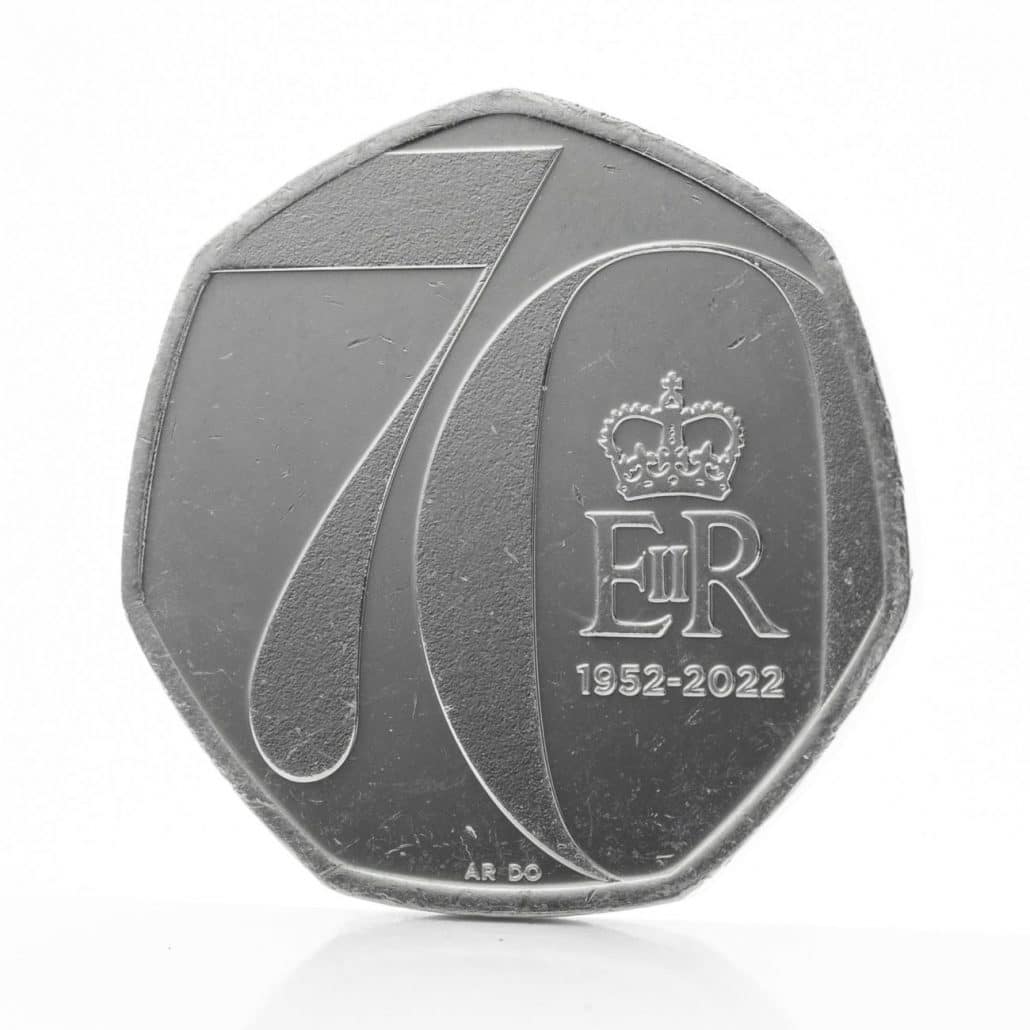 Towards the bottom the initials AR DO can be seen, which represent the designers Andrew Ross and Deborah Osborne from the design agency Osborne Ross.
A Groundbreaking 50p
This 50p is unlike others as it is the first 50p in history to commemorate a royal figure.
When you combine this with the fact that it has two different obverses, something that has also never been done for a 50p coin, it becomes clear to see why collectors are on the lookout for this coin.
It's definitely worth keeping an eye out for this coin in your change. Given how recently it was introduced to circulation there is a good chance that you will come across one, and they are likely to increase in value over the years as well.
Where Can You Purchase A Platinum Jubilee 50p?
If you haven't found one of these coins in your change yet, it could be worth holding out as there is a good chance that you could come across one given how new the coin is.
You can always purchase a circulated version above face value on eBay as well.
If you want to purchase an uncirculated version then the Royal Mint is a great option. At the time of writing, the brilliant uncirculated edition is still available in a display folder while all other versions are sold out.